Climbing the high peaks of the Sierra Nevada
Guided day or multi-day Sierra Nevada mountain ascents in summer and winter
Dates- Year Round
Prices - from €65 per person per day
Accommodation - hotels from €30 per person per night (sharing)
---
Most of the high peaks can be ascended in either 1 or 2 days. Why not tailor make your own activity holiday and include the ascent of some of the finest peaks in Spain?
---
Walking grades (days)
Tough
The High Peaks
The main summits of the Sierra Nevada can be ascended by either 1 or 2 day trips. Below are some examples. All prices include transport, guiding, camping gear and any other specialised equipment when necessary. When we stay at the Poqueira Hut there will be a 15 euro supplement to cover the accommodation cost. You may combine any of these trips into a week or 2 weeks walking.
Seasonal note: In winter the ability to use crampons and ice axe is essential. Rope may be required for some ascents. Learn the basics on a winter skills mountaineering course. Some ascents will require overnight bivvy in unguarded mountain refuges.
Further Information
Pick up/drop off in Granada (Alhambra area) or Lanjaron, Alpujarras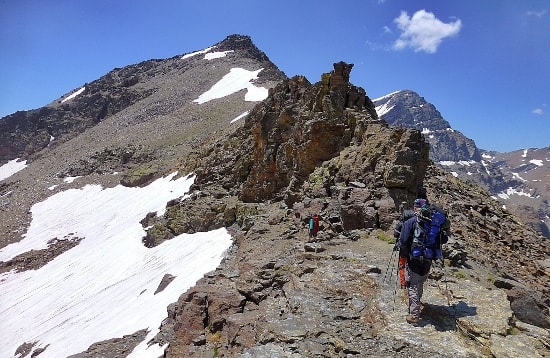 Sample Mountain Ascents
---
Mulhacen (3483 m) from the south
1 day - 8 to10hrs and 1300 metres ascent. From the Hoya de Portillo to the mirador de Trevelez. Up the south ridge. Return via the west flank and mirador. A long but rewarding day.
Mulhacen (3483 m) via Siete Lagunas
2 days. This takes us to the best camping site in the range, Siete Lagunas
Mulhacen (3483 m) via Poqueira Hut
2 days. Travelling light we traverse Mulhacen utilising the Poqueira Hut overnight. The hut is guarded with beds, blankets, meals etc
Veleta (3394 m) from the north
1 day - 5 to 6hrs and 900 metres ascent. Straightforward walking from a high start point. We first ascend Los Machos from the Corral de Veleta and then Veleta itself, returning down the north ridge.
Tajos de la Virgen Traverse including Pico de Cartujo
1 day - 5 to 6 hrs and 500 metres ascent. An interesting day with some simple scrambling.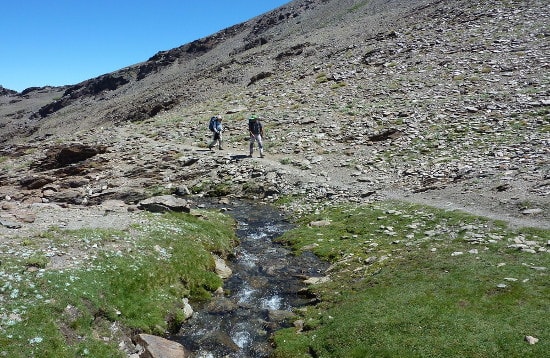 Peaks continued.....
---
Alcazaba (3371 m) from Trevelez
2 days. Alcazaba is the most difficult peak to ascend because of its remoteness. We stay overnight at Siete Lagunas. This makes an interesting 2 day trip in which other peaks may be ascended en route.
Puntal de la Caldera (3225 m) via Poqueira Hut
2 days. A fine ridge scramble which may be combined with Mulhacen if required.
Cerrillo Redondo (2909 m) & Tajos de los Machos from Puente Palo
1 day - 6 to 8hrs and 1400 metres ascent. A long day doing a round of the peaks surrounding Puente Palo.
Cerro de Caballo (3009 m) from Lanjaron
1 day - 5 to 7 hrs and 1000 metres ascent. The most southerly 3000m peak in the range gives fine viewpoints.