Guided Walking and Scrambling Holidays in Mallorca
See the real wild side of Mallorca on our scrambling and walking weeks
Dates- October to June
Prices - from €65 per person per day
Accommodation - hotels from €30 per person per night (sharing)
---
Imagine traversing the high hills, hot sun overhead, far reaching views in every direction. Lightly clad in T-shirt and shorts and carrying a light rucksack with water rations you make your way over these quiet hills. An early start allows plenty of time for relaxation later in the day. Just about perfect? This is Mallorca, or as one of our clients put it....... "Scotland Without the Rain!"
---
Walking grades (days)
Moderate Challenging Tough
Walks and Scrambles in Mallorca
The Mountains
We have been running holidays here for many years but never fail to be amazed by the breathtaking scenery and spectacular landscapes. With short (and cheap!) air flights from the UK this has to be one of top walking areas in Europe.
Amazingly, however it is still relatively unknown as a walking destination and you meet few fellow walkers on some of our walks, compared to the crowded hills of the Lake District and North Wales. With over a dozen hills reaching 1000m heights and two over 1300m the NW area of the island from Puerto Pollensa to Soller provides great opportunities for ramblers, hillwalkers and scramblers.
If your interest is in scrambling, rather than hill walking, then we believe that Mallorca has the potential to rival the Isle of Skye, without the midges, mist and rain of course! There are scrambles of all kinds from those requiring you to sometimes take your hands out of your pockets, to easy rock routes requiring the use of a rope.
Further Information
Pick up/drop off in Granada (Alhambra area) or Lanjaron, Alpujarras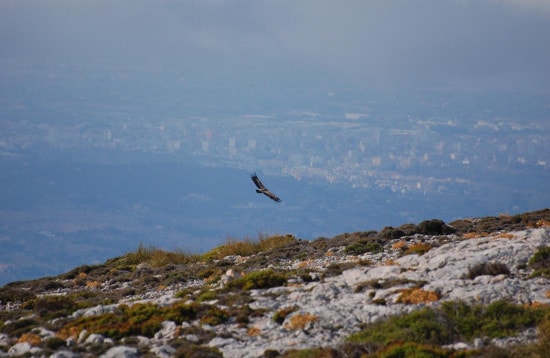 The Walking
---
We don't have any set routine for the daily excursions and tend to tailor each day to suit the wishes of the party. If its gentle strolls down quiet country tracks that you wish then we tailor the trips accordingly. It's really up to you.
Should you wish to get a taste of the delights on offer then we recommend the book "Walking in Mallorca" by June Parker and published by Cicerone Press. You could of course, just relax in the warm sun. There are also plenty of opportunities to view some of the spectacular birdlife for which Mallorca is famous. Red Kites, Black Vultures are regularly seen from our villa.
Accommodation
Accommodation in NW Mallorca is on a room-only basis in a comfortable 2 star hotel in Puerto Pollensa or in comfortable apartments. Surrounded by hills the views are fantastic. Shops, beach, restaurants and supermarkets are nearby and the location provides a great base from which to explore the surrounding mountains.
We can advise on the many good restaurants in the area.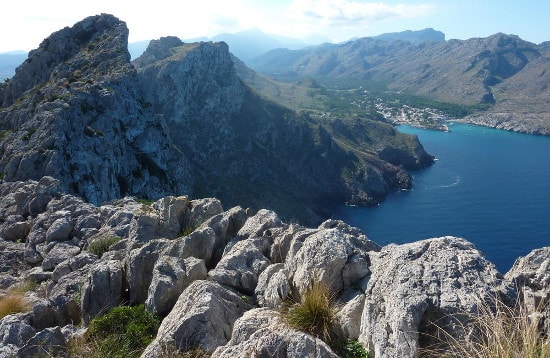 Walks and Scrambles
---
The Traverse of Massenella (1367m)
The highest accessible peak on the island provides a strenuous but rewarding days hillwalking.
Tomir (1103m)
A good hillwalking day with a high start point allowing relatively easy access to the range and a traverse is possible using our support vehicles.
Torrente de Pareis
If you've never tried it, gorge scrambling is a most memorable experience. This is the classic of them all. Previous trips have used it in both ascent and descent and had a wonderful day of scrambling in dramatic gorge scenery. Backup vehicles are used to facilitate the full traverse of the gorge. An experience not to be missed.
Serra de Cavall Bernat Ridge
For scramblers with a good head for heights, this ridge is a must. The "Crib Goch" of Mallorca. Interesting, strenuous and enjoyable.
Pena Roja and Atalaya de Alcudia
Easy, enjoyable strolling over some low hills on the Alcudia peninsular. Great views over northern Mallorca.
Sa Rateta (1084m), L'Offre (1091m) and the Pilgrims Steps
Vehicles at Cuber and Biniaraix mean a high start point, two wonderful easy peaks, and an easy, classic descent through magnificent, dramatic scenery to the village of Biniaraix. For those who wish an easy day the descent of the Pilgrims Steps makes for a wonderful experience.