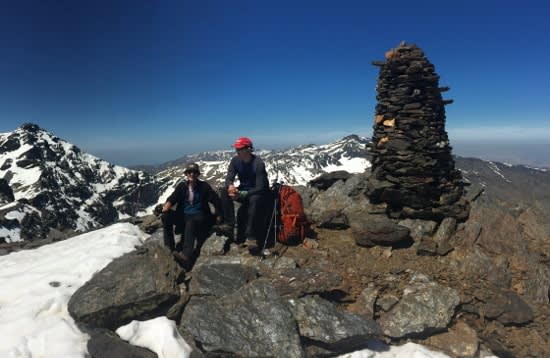 "Los Tres Miles" 3000m peaks
Los Tres Miles - 4-5 day wild camping trek climbing 23 3000m+ peaks
Grade: Very tough, duration: 4 or 5 days, mid-May through to mid-November
---
The classic multi day trek of the Sierra Nevada that covers all the major 3000m peaks in the range. We start at Trevelez, ascend to the head of the Rio Trevelez where we join the main ridge. Then we walk the whole range all the way back to Lanjaron. In total over 4000m ascent, 5000m descent, 70km and over 23 major 3000m summits.
The trek is usually doable from mid-May until mid-November but this does depend on late or early season snowfall. The trek will take between 4 and 5 days in high summer with some delectable overnight camping places by mountain streams or lakes.
Transport support is provided to ensure we are able to traverse the main sections of the range. The walking is quiet and unspoilt but a certain amount of resilience is required as it is remote and rough.
This tour is quite strenuous and should be undertaken by strong hill walkers. Accommodation is either in secluded lakeside campsites in the mountains or in unguarded mountain huts.