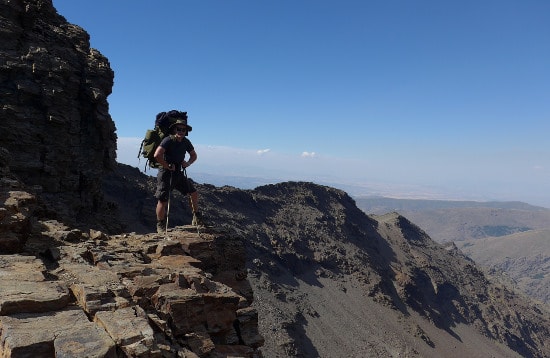 Remote Northern Peaks 3 day circuit
Vereda de Estrella trailhead to Pena Partida and Lavederos de la Reina valley. Wild camp. Ridge walk of the northern peaks to Laguna de Vacares and drop down to lake.
Wild camp at Laguna de Vacares. Return down Loma del Calvario to cross Rio Vadillo and return to trailhead.
Expect days of 7-8 hours duration plus stops
Major peaks covered: Picon de Jerez 3090m, Puntal de Juntillas 3139m, Puntal de los Cuartos 3158m, Atalaya 3135m, Pico del Cuervo 3144m, Puntal de Vacares 3136m
Notes: Great traverse of the northern peaks. The Pena Partida is one of the least visited huts in the Sierras. Great undulating ridge walking on day 2. Long descent day 3. Seasonal notes: Relatively straightforward, if long and tough winter expedition.