Why Sierra Nevada and Andalucia for trail running?
The Sierra Nevada National Park provides one of the best arenas for trail running, not only in Spain, but throughout Europe. Here are the top five reasons why trail running here should not be missed.
Well served with high quality trails featuring a diverse mix of climbs, technical routes and beautiful long-distance paths, there are endless opportunities for exploring the area.
Home to the highest mountains in Western Europe outside of the Alps and with more than 25 peaks over 3000m, the Sierra Nevada is the ideal location for high-altitude training.
Average mid-winter temperatures of 15 degrees and sunny days take the sting out of winter marathon training. When temperatures rise in the summer, the cooler climates of the high peaks provide welcome relief to the surrounding heat.
The Moorish acequias (water channels) and fuentes (springs/fountains) through out the area provide a plentiful supply of fresh mountain water along the trails, as well as the opportunity to experience the cultural heritage of the area first hand.
Ideally located and with excellent accessibility, trail running days can easily be incorporated into city breaks in Granada.
We have a selection of sample itineraries (see below) and holiday packages available to give you a sense of what the area has to offer, but these can be easily adapted to suit your particular interests and training needs.
Tell Me More!
Single days trips allow you to explore the area and experience the spectacular views and terrain the Sierra Nevada and wider Granada province has to offer. Our experienced guide can help describe the landscape, putting the region in context and giving you a greater understanding of this area of Spain.
Multi-day trips provide the opportunity to explore some of the picturesque Spanish mountain villages of the Alpujarras and Sierra Nevada, and experience the local culture. Relax after a days running in a local bar with a drink and tapas, and stock up on pan de higos (fig bread) – a local, portable energy source par excellence – to fuel the next day.
Longer high-altitude days offer intense fitness and conditioning training to boost strength and stamina. In addition to numerous routes that take you above 3000m, well maintained mountain refuges provide opportunities for multi-day high-altitude runs. If even this isn't challenging enough for you then get in touch! We always have ideas for pushing your endurance to the limit, whether on a sea to summit run, or multi-peak round.
If you are a complete beginner and interested in trying trail running for the first time, we can help give you the confidence to start exploring the hills on your own, with advice on footwear and other equipment, route planning, and tips on hydration and nutrition.
The duration of your holiday can range from one day to one week, depending on your personal goals, and are led by Matt Dowse. You can also opt for "Dynamic Rest" days between training days and climb some mountains at a more leisurely pace with a Spanish Highs walking guide to help stretch your legs and avoid injury and/or seizing of leg muscles.
Based in the Granada province of Andalucia, Spanish Highs offer tailored trail running itineraries and guided trips in the beautiful Sierra Nevada National Park; a landscape of stunning mountain terrain and rich biodiversity, steeped in history and culture.
Whether you are interested in fitting a days running into your holiday, want to give your marathon training a high-altitude boost, or are seeking a tough multi-day challenge in preparation for your next ultra, we have routes and itineraries to suit all levels of fitness and experience.
Our guide, Matt Dowse - Biography/Resume
Matt is a experienced runner and passionate outdoor enthusiast. He has been running marathons and ultra races for over 10 years, finishing 100 and 50 mile trail races along with numerous trail marathons and shorter distance races. Before moving to Spain he worked as a Ranger with the South Downs National Park Authority and has a keen interest in and high level of knowledge for wildlife identification, conservation and countryside management. His marathon PB remains at an extremely frustrating 3:00.19.
Is the Sierra Nevada a good place for Trail Running?
The Sierra Nevada provides some of the best tracks, climbs and long distance paths for trail runners. Many top spanish athletes train here and there are some excellent races ie the Sierra Nevada Ultra Trail Race
Trail Running Itineraries
To give you an example of what we can offer, we have prepared the following sample itineraries. They can be adapted to fit your training needs, experience and fitness level however you wish, for example with more or fewer miles on each day, more days of running, days off or dynamic rest days. Alternatively you can book single days, to give you a taste of trailing running in Andalucia, or keep on top of your training whilst on holiday. Contact us to discuss options.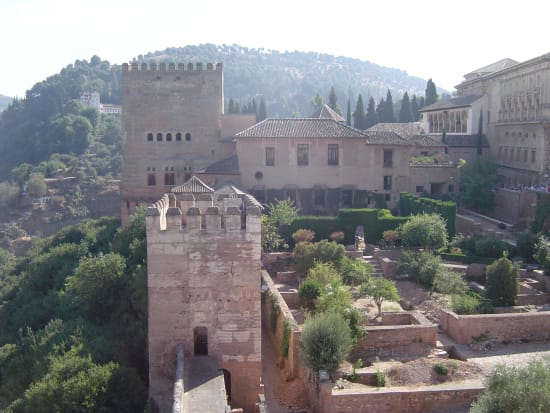 Granada
One of the most beautiful cities in Andalucia (if not Spain) Granada is a city of spectacular Moorish buildings, passionate flamenco and appetising tapas all set within the foothills of the Sierra Nevada. Our Granada package begins with a running tour of the city, before heading out to the surrounding countryside and hills.
Day 1:
Afternoon running tour of the city of Granada. Approx. 10km/6miles, 500m ascent/decent.
Day 2:
Option 1 – A long run from the heart of Granada, past the Alhambra palace and out into the surrounding hills. Approx. 33km/20miles, 1,100m ascent/descent, max elevation 1,122m.
Option 2 – A day out into the Sierra Nevada, summiting its second highest peak and running along the spectacular trails along the northern flanks and valleys. Approx. 21km/13miles, 1,440m ascent/descent, max elevation 3,394m (Veleta summit).
Day 3:
Option 1 - A loop run in the beautiful Cumbres Verdes ('Green Peaks') mountains, less than half an hour from Granada. Approx. 19km/12miles, 1,100m ascent/descent, max elevation 1,511m.
Option 2 – A second route option in the Cumbres Verdes, with more climbing, and which including summiting Trevenque. Approx. 28km/17miles, 1,655m ascent/descent, max elevation 2,079m (Tevenque summit).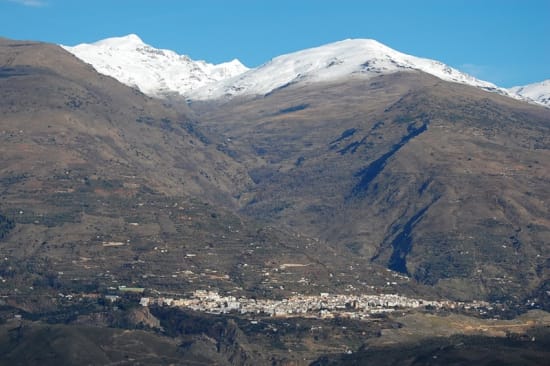 Lanjaron
Less than an hour from Granada lies the town of Lanjaron. Known as the gateway to the Alpujarras ('La puerta de las Alpujarras') and famed for its pure spring water, clean air and natural environment, the town is ideal suited to scenic trail runs. Numerous bars, restaurants and shops provide ample opportunity for experiencing local food and relaxing apres-run.
Day 1:
Arrival in Lanjaron. Afternoon looped run, to give you an overview of the town, its setting, and the surrounding countryside. Approx. 10km/6miles, 670m ascent/descent, max elevation.
Day 2:
A longer run up into the hills from Lanjaron, featuring beautiful views and challenging climbs. This route takes in several interesting features revealing details about the rural culture and agricultural history of Lanjaron and the Alpujarras, as well as following ancient acequias (water channels). Approx. 14km/8.5miles, 1,135m ascent/descent, max elevation 1,476m.
Day 3:
A point-to-point run along the long distance GR7 path, through spectacular scenery and passing several picturesque mountain villages. Either catch the bus to Capileira and run back to Lanjaron for an majority descent, or run up to Capileira and return by bus for another day of strong climbing. Approx. 20km/13miles, 822m ascent, 1,687m descent (Capileira – Lanjaron), max elevation 1,535m.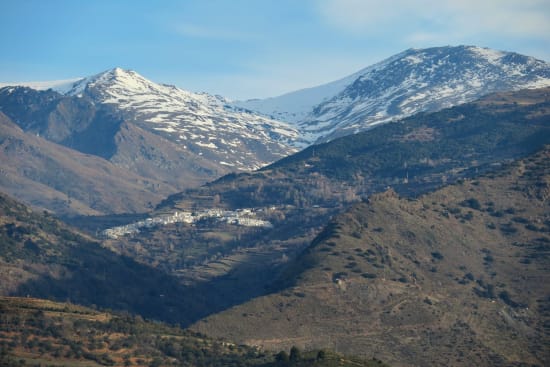 Capileira
Capileira is the highest of the three white villages of the Poqueira gorge and at 1,450m (higher than Ben Nevis – 1,345m) is the perfect base for high altitude runs and trails into the high peaks of the Sierra Nevada. The town itself is beautiful and charming, and affords inspiring views down the Poqueira valley. The variety of trails from the village make this the ideal spot for a longer stay or trail running holidays.
Day 1:
Arrival and short run from the village along the Poqueira gorge. Give the altitude of the town, this provides a useful acclimatisation opportunity and will help prepare for the days ahead. Approx. 9km/5.5miles, 680m ascent/descent, max elevation 1,560m.
Day 2:
Option 1 – Ascent of Mulhacen, the highest mountain on the Iberian peninsular. A tough day of extensive climbing and high altitudes, but worth it for the sense of accomplishment and incredible views from the summit. Approx. 28km/17miles, 2,290m ascent/descent, max elevation 3,482m (Mulhacen summit).
Option 2 – A point-to-point mountain trail run to the town of Trevelez experiencing the wilderness of the high Sierra. On clear days, you can glimpse the coast of Africa across the Mediterranean sea. Approx. 21km/13miles. 1,218m ascent, 1,300m descent, max elevation 2,242m.
Day 3:
Option 1 – A looped run to the Poqueira mountain refuge, running along the ancient acequias water channels and through the Poqueira gorge, along the river Naute. Approx. 19km/12miles, 1,410m ascent/descent, max elevation 2,475m.
Option 2 – A point-to-point run along the long distance GR7 path, through spectacular scenery and passing several picturesque mountain villages. Either run down to Lanjaron and return to Capileira by bus for a majority descent, or catch the bus to Lanjaron and run back for a day of climbing. Approx. 20km/13miles, 822m ascent, 1,687m descent (Capileira – Lanjaron), max elevation 1,535m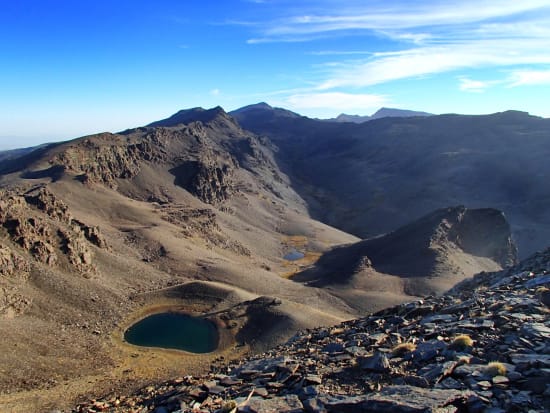 Challenges and Ultra Training
We know how it can be; running has a way of drawing you in. You start off with a 5k's, which turn into 10k's and half marathons. You enter a marathon, just to see if it's possible, and then before you know it you're looking into entering ultra races that your friends describe as 'crazy' or working out which races to do to can get enough UTMB qualification point.
At Spanish Highs, we understand the need to strive towards new challenges. If you are preparing for ultra, mountain, or multi-stage race, or just want to do something to put yourself to the test, the Sierra Nevada provides the perfect location. Below are some of the opportunities we have here!
Los Tres Picos (The Three Peaks) Veleta, Mulhacen and Alcazaba.
Take on and summit the three highest peaks on the Iberian peninsular (3,482m, 3,394m and 3,371m), starting from outside Granada and finishing in the mountain village of Trevelez. Approx. 25km/15.5miles, 1,585m ascent, 2,668km descent, max elevation 3,482m (Mulhacen summit).
Los Tres Miles (The 3,000s).
A high altitude point-to-point route summiting all of the major 3,000m summits of the Sierra Nevada. Taken over three days and staying in mountain refuges along the way the length and ascent combined with the altitude make this a real test of endurance. Perfect for multi-day and ultra training. Approx. 89km/55miles, total ascent 5,370m, total descent 4,730m, max elevation 3,482m (Mulhacen summit)
The Sulayr GR240.
The longest circular route anywhere in Spain and taking its title from the Moorish name for the Sierra Nevada (meaning mountain of the sun), the Sulayr circumnavigates the entire Sierra Nevada mountain range. Approx. 302km/188miles, 10,000m ascent.
The Sierra Nevada National Park, and Code of Conduct
The Sierra Nevada is designated as both a Biosphere Reserve, and a National Park (the largest in Spain) by means of its unique natural features. A rare mix of geology, geography, altitude and climate has furnished it with an extraordinarily rich biodiversity, with one of the highest levels of species endemism in Europe. Spanish Ibex (Capra pyrenaica) are a common site on high altitude runs, whilst raptors such as golden eagle (Aquila chrysaetos) and griffon vulture (Gyps fulvus) soaring overhead makes for a very impressive site. Running in such a landscape is a privilege, and we are committed to helping protect the area. All visitors to the Park must comply with good behavioural practices, for example by ensuring that all litter is taken with you, especially gel wrappers.
Dates and Prices
Prices
Definition of "Group" - if you are booking a trip for 2 persons the 2 person rate applies, 3 persons - 3 person rate etc (not dependent on eventual total group size!).
Over 4 persons - Group discounts apply. Enquire via email or contact form Price quoted below refer to start points in Granada, Lanjaron or Capileira. High mountain trailheads might require use of client vehicles or incur additional transport cost
Full Day
Group size (per booking): (prices are per person per day)
1 person - cost €120
2 persons - cost €75
3 persons - cost €65
4 persons - cost €55
Half Day
Group size (per booking): (prices are per person per day)
1 person - cost €60
2 persons - cost €40
3 persons - cost €35
4 persons - cost €30
Full Three Day Itinerary
Group size (per booking): (price for 3 days running per person)
1 person - cost €270 each
2 persons - cost €180 each
3 persons - cost €150 each
4 persons - cost €120 each
You may also be interested in?