Guided Trek Sulayr GR240 Long Distance Path, Sierra Nevada
A weeks guided trek on the Sulayr long distance path that encircles the Sierra Nevada mountain range in southern Spain
Dates- September to June
Prices - from €65 per person per day
Accommodation - hotels from €30 per person per night (sharing)
---
Sulayr, the "Mountains of the Sun", as the Arabs used to call the Sierra Nevada, is now given its name to a great 300km footpath that encircles the range. It is divided into 19 sections that covers tens of kilometers of old traditional paths, animal tracks and cattle routes.
---
Walking grades (days)
3x Moderate 1x Challenging
The Sulayr Trail
This new path was inaugarated in November 2007 and is designed to help walkers link small villages at about the 2000m level around the Sierra Nevada. Walkers will also discover a flavour of past Arab and Andalucian cultures and influences.
The walk can be done as a whole or in selected day sections. We can supply a guide should you wish, but if you want to do your "own thing", then we can assist with planning, maps and transportation of your baggages from village to village. This is a great opportunity to sample a relatively new walk that is certain to become legendary!
Total length of the GR240: 300 kms
Estimated duration: 15-19 days
Average altitude: 1800 m
Further Information
Pick up/drop off in Granada (Alhambra area) or Lanjaron, Alpujarras
A Weeks Guided Trek on the Sulayr GR240
---
We provide a 6 day guided trek of what we consider to be the best sections which provide the most interest and the best views. The sections on this guided trail are the following:
La Polarda - La Roza (DIFFICULT 4-5 HOURS, 17km)
La Roza - Piedra Negra (DIFFICULT 3-4 HOURS, 10km)
Piedra Negra - El Toril (ARDUOUS 6-7 HOURS, 19km)
El Toril - Las Chorreras (DIFFICULT 3-4 HOURS, 10km)
Las Chorreras - Postero Alto (ARDUOUS 7-9 HOURS, 21km)
Postero Alto - Peña Partida (DIFFICULT 5-6 HOURS, 16km)
Peña Partida-La Hortichuela (ARDUOUS 5-7 HOURS, 15km)
La Hortichuela-Centro de Visitantes "El Dornajo" (MEDIUM 2-3 HOURS, 7km)
There is a lot of flexibility on this trek for longer or shorter days or for some side excursions into the Sierra Nevada en route. Wild camping en route and also we make use of basic mountain shelters. All transport to/from start/end points is provided.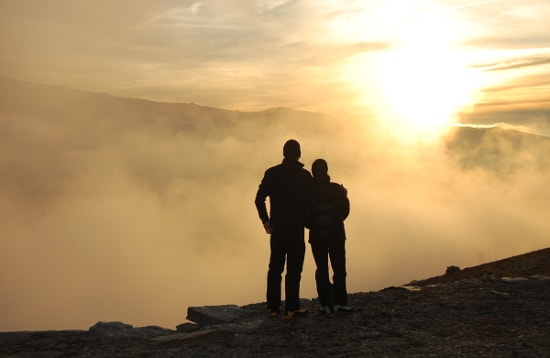 The full list of the Trekking Sections
---
The Sulayr path comprises 19 sections for you to enjoy:
Centro de visitantes "Dornajo" - Casa forestal "La Cortijuela" (DIFFICULT 5-6 HOURS, 15km)
Casa forestal "La Cortijuela" - Rinconada de Nigüelas (DIFFICULT 4-5 HOURS, 19km)
Rinconada de Nigüelas- Tello (DIFFICULT 4-5 HOURS, 15km)
Tello-Puente Palo (DIFFICULT 3-4 HOURS, 9km)
Puente Palo - Capileira (DIFFICULT 5-6 HOURS, 11km)
Capileira-Trevélez (ARDUOUS 5-7 HOURS, 17km)
Trevélez-Lastonar (ARDUOUS 7-9 HOURS, 25km)
Lastonar-Fuente del Espino (DIFFICULT 5-6 HOURS, 16km)
Fuente del Espino - Barranco Riachuelo (ARDUOUS 5-7 HOURS, 21km)
Barranco Riachuelo - El Cerecillo (DIFFICULT 5-6 HOURS, 15km)
El Cerecillo - La Polarda (ARDUOUS 7-9 HOURS, 21km)
La Polarda - La Roza (DIFFICULT 4-5 HOURS, 17km)
La Roza - Piedra Negra (DIFFICULT 3-4 HOURS, 10km)
Piedra Negra - El Toril (ARDUOUS 6-7 HOURS, 19km)
El Toril - Las Chorreras (DIFFICULT 3-4 HOURS, 10km)
Las Chorreras - Postero Alto (ARDUOUS 7-9 HOURS, 21km)
Postero Alto - Peña Partida (DIFFICULT 5-6 HOURS, 16km)
Peña Partida-La Hortichuela (ARDUOUS 5-7 HOURS, 15km)
La Hortichuela-Centro de Visitantes "El Dornajo" (MEDIUM 2-3 HOURS, 7km)