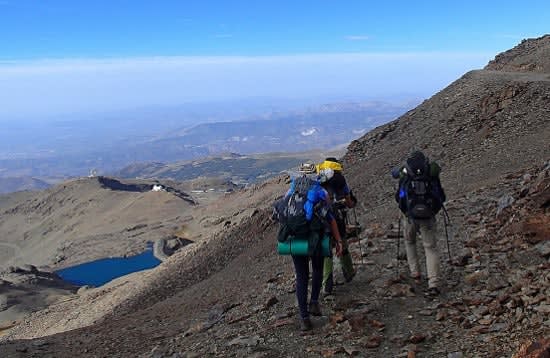 Ski area to Puente Palo (2 day)
Outline: Pass via ski terrain, scrambling ridge or mountain flank to unguarded Elorrieta hut (Veleta option). Overnight. Ridge to Tajos de los Machos. Down eastern bowl, traverse to Cebollar ruins, zig zag descent, river crossing, forest trail to pickup.
Time and ascent (ideal summer conditions):
Day 1 - 4 hrs (750m ascent), (Scramble 6 hrs/900m ascent).
Day 2 - 6 hrs (200m ascent/1600m descent).
Major peaks covered: Tajos de la Virgen 3191m, Tajos de los Machos 3085m, Cerrillo Redondo 3055m
Notes: Varied terrain specially on Day 2. Elorrieta best overnight viewpoint in the Sierras.
Seasonal notes: The mountain flank to the Elorietta may not be possible under snow as it is an avalanche blackspot. Alternative ascent of Pico del Cartujo will add 3hrs and 300m ascent. Scramble becomes winter graded climb. Have a look at our Detailed Trip Report for an example of this crossing.
Options: The long south ridge from Cerrillo Redondo is slightly quicker and easier to reach Puente Palo. Possible descent to Lanjaron via Tello.