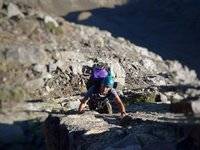 The Espolón de la Caldera is in fact the NW ridge of the Puntal de la Caldera, found just to the west of Mulhacén's, Collado de Ciervo, in Spain's Sierra Nevada mountains. It gives a rough and sometimes loose scramble with many possibilities for making the ascent easier or tougher to suit...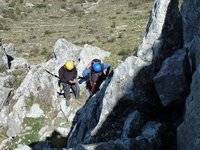 Describes an wonderful mountain day scrambling and climbing on the west ridge of the Peñón de la Mata in the Sierra de Huetor, N of Granada and the more popular Sierra Nevada. We had seen this ridge on our last visit to the Peñón de la Mata when we did a scramble on the north eastern flanks...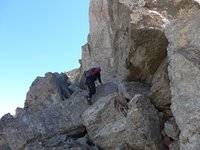 The west to east traverse of the Puntal de la Caldera gives fine high altitude Sierra Nevada Scrambling opportunities. Here is a route description of how to do it. Arriving at 2900m we made swift progress on the old road over the Col de Carihuela...