We offer expertly guided, low impact activity holidays in the Alpujarras and Sierra Nevada mountains for individuals and small groups, staying in small local hotels and both guarded and unguarded mountain refuges. We do our best to protect this breath-taking, unspoiled but fragile wilderness and ask guests to do so too.
We carry bags so all rubbish is extracted from the mountain. Not only ours, but also the litter left by others!
The development of rural tourism in the area provides economic benefits and encourages an alternative to that of the overdeveloped "costas".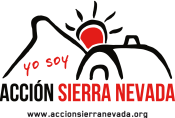 Together with local mountain lovers we have been instrumental in developing an initiative to restore mountain refuges in the Sierra Nevada. Accion Sierra Nevada started out in 2011 as three people cleaning and painting the Refugio de Caballo (2900m) above Lanjaron. Now we have the support of the Parque Nacional Sierra Nevada and Accion Sierra Nevada has it's own website and Facebook Fan Page where you will find all the latest news. We have plans to further restore other mountain refuges in the Sierra Nevada.
Spanish Highs started out in 2002 with UK based guides. Since 2008 our policy has been to widen the staff base and the main criteria now is "local people". We have a pleasant mix of spanish, german and uk guides, all of which are local to the Alpujarras and Sierra Nevada. Furthermore, we are actively developing our "Expert Guide" project throughout Andalucia and Spain. This initiative is to provide employment for local experts.
We also develop tours with local people trying to retain the old traditional ways. In 2011 we started "Trekking with Mules" in order to revive traditional ways of moving in the mountains and thus employing local people.