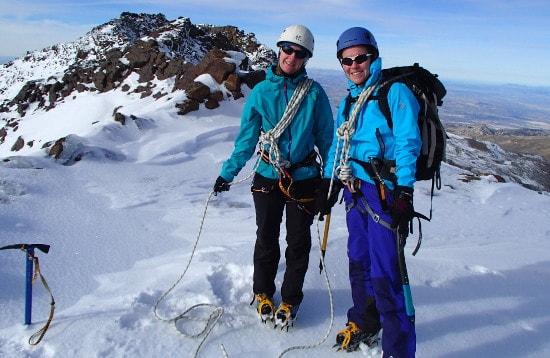 Winter Mountaineering Courses
Available from December to May inclusive. All of the following base courses can be extended by additional days putting into practice the things learnt
Winter Skills 2 days
These mountains are ideal with good snow lasting well into June. You will learn to travel and progress safely through the winter mountains learning the basics of ice axe, crampons, avalanche awareness and safety techniques.
Alpine Introduction 4 days
The essentials for safe travel on snow and glacial terrain including: crampon and ice axe techniques; glacier travel, crevasse rescue, bivouacs, snowholes and basic navigation. To tackle rocky ridges you will learn fixed belay and alpine style running belay techniques. Simple snow gullies and faces will climbed. All in superb mountain settings!
High Altitude Expedition Preparation Course
A 5 day course (3 nights out in the Sierra Nevada). If you are heading for the Greater Ranges and want to pack in a short, intensive course prior to departure then you should check out our 2 day Expedition Preparation Course. Perfect when time is short before your trip.