Mountaineering, Rock Climbing & Via Ferrata in the Sierra Nevada, Spain
Mountaineering, winter skills and alpine introduction courses in Spain's Sierra Nevada. Also Rock Climbing and Via Ferrata
Exciting, adreneline filled mountain activities throughout the year! The Sierra Nevada is almost perfect for learning and taking part in mountaineering activities. High altitude (27 peaks over 3000m) and snowsure (normally snow covered from November until May), the mountains provide a reliable winter destination. We offer a variety of courses and multi day tours designed to prepare you for your alpine adventures. Also Andalucia is a fantastic destination for Via ferrata and Scrambling activities
OUR MOUNTAINEERING ACTIVITIES
Sierra Nevada, Spain & Patagonia
---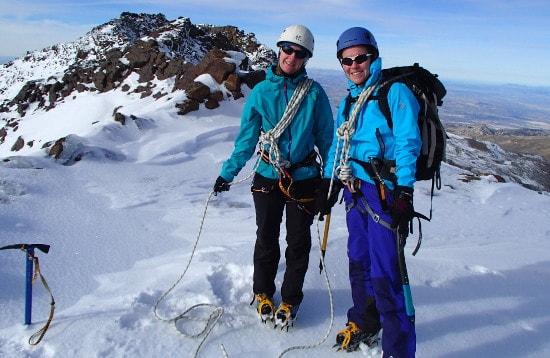 Winter Mountaineering Courses
December to May inclusive
---
All of the following base courses can be extended by additional days putting into practice the things learnt
Winter Skills 2 days
These mountains are ideal with good snow lasting well into June. You will learn to travel and progress safely through the winter mountains learning the basics of ice axe, crampons, avalanche awareness and safety techniques.
More info
Alpine Introduction 4 days
The essentials for safe travel on snow and glacial terrain including: crampon and ice axe techniques; glacier travel, crevasse rescue, bivouacs, snowholes and basic navigation. To tackle rocky ridges you will learn fixed belay and alpine style running belay techniques. Simple snow gullies and faces will climbed. All in superb mountain settings!
More info
Expedition Preparation Course 2 days
If you are heading for the Greater Ranges and want to pack in a short, intensive course prior to departure then you should check out our 2 day Expedition Preparation Course. Perfect when time is short before your trip.
More info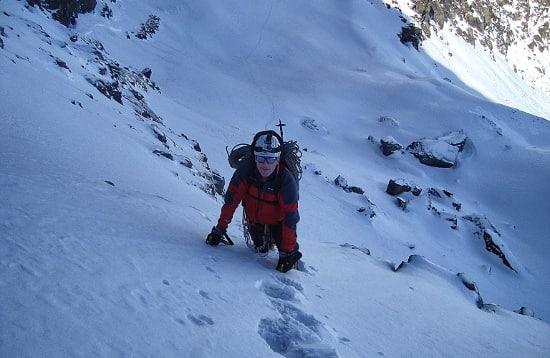 Winter Mountain Adventures
December to May inclusive
---
The winter peaks can generally be ascended by either 1 but more likely 2 day trips. Overnight can be in guarded, unguarded refuges. You may combine trips into a weeks walking.
The ability to use crampons and ice axe is essential. Rope may be required for some ascents. Learn the basics on a winter skills mountaineering course. Some ascents will require overnight bivvy in unguarded mountain refuges.
Some popular peaks include:
Veleta and Cerro de los Machos
Tajos de la Virgen traverse including Pico de Cartujo
Alcazaba (3371 m) from Trevelez
Puntal de la Caldera (3225 m)
Cerrillo Redondo (2909 m) & Tajos de los Machos (3085m) from Puente Palo
Cerro de Caballo (3009 m) from near Lanjaron
More info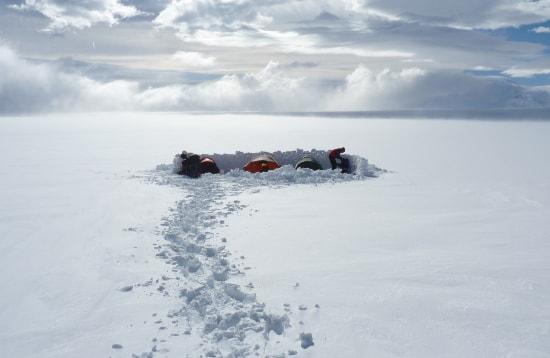 Patagonia Icecap
Expeditions to the largest piece of ice outside the poles!
November
---
We have being visiting the glaciers and icefields of Patagonia's magnificent Los Glacieres National Park region since 2006. The area not only offers superb trekking, but the experience of a lifetime on the great Southern Patagonian Icecap. Not be missed!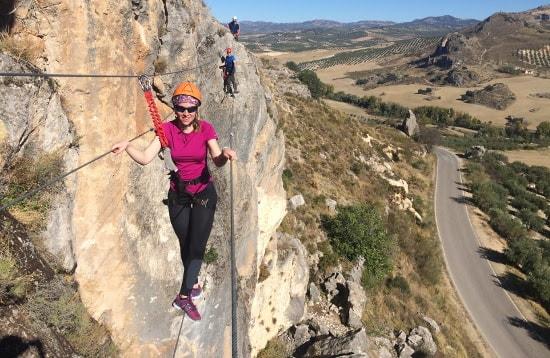 Via Ferratas in Andalucia
Los Vados, Moclin, Ronda area
September to June inclusive
---
Recently developed Via Ferrata areas are springing up in Andalucia. They provide great winter sport, unlike many alpine equivalents. Stunning scenery and locations.
Via Ferrata Los Vados, Costa Tropical near Motril. Amazing ascent of some 300m+ up a spectacular rock wall in a gorge. For those that have vertigo, stay at home!
Via Ferrata Moclin. Located at Tajo de Sopalmo, 30 minutes from Granada. An interesting route with a good mix of bridges and traverses. Total length 480m
Via Ferratas in Andalucia, based near Ronda. The Via Ferrata capital of Andalucia. Loads of fun for all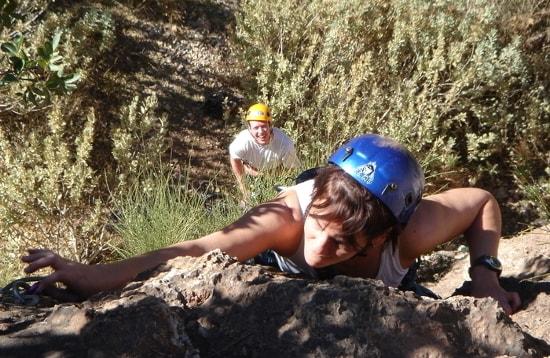 Rock Climbing
Beginner rock and ropework courses near Granada and in the Costa del Sol
September to June inclusive
---
We offer itineraries to fit every wish and budget; whether you want a simple one-off adrenalin fuelled experience of climbing tall rock faces, an introductory course to teach you the basic skills and safety aspects of the sport, or a few days out with an experienced guide to push your grades by top roping, improve your skills, and get started at lead climbing.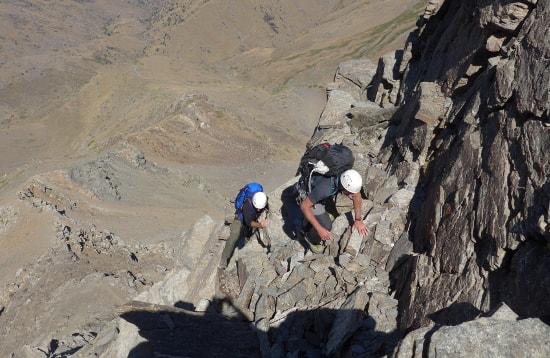 Mountaineering Reports
---
A recent report on a rare mountaineering traverse of the Raspones de Rio Seco in Spains Sierra Nevada by Gary Brown and his friends of the "Geezers of Croydon" MC. No idea if any Brit/Irish has done this before. Maybe a first British/Irish winter ascent?...
Report and video of climbing the Canuto Norte de Veleta, one of the classic mountaineering routes (AD) in the Sierra Nevada. Grade - Winter – AD (50º) (AD- in good conditions with footsteps to follow!). Access for the next few routes all leave the Hoya de la Mora and ascend the broad NNW slopes of Veleta. ..
A report of a superb winter mountaineering route in Spain's Sierra Nevada along the long alpine ridge of Los Raspones, graded AD, accessible from Capileira. The route is not done often, even by the spanish, so decided it was high time to go and "take a look"...