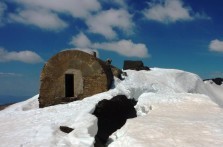 Refugio Elorrietta
Type: Unguarded
State: Poor
Height: 3169m
Grid Ref: 30S 465230 4099708
Location: SW ridge of Tajos de la Virgen, head of Lanjaron valley
Access: Pradollano
Capacity: 15
Notes
Roomy bivouac shelter. SW of Tajos de la Virgen ridge
The Elorrieta Refuge is located at 3.187m above sea level, between the Tosal Cartujo and Tajos of the Virgin, in a place that winter is continuously covered with snow and swept by strong winds. It was built between the years 1931 and 1933 and christened with that name in honour of Director General de Montes D. Octavio Elorrieta.
Contrary to other reports the shelter was built to house forestry reforestation workers in the Lanjaron and Toril valleys (and was NOT a TB hospital).
It was the most ambitious of a network of shelters that were designed in the 30s in the Lanjaron river valley, and the only one that was built according to plan. It had central heating, installation of water and power for lighting. Constructively it consists of two parts, a domed outside and dug into rock, with a set of galleries dug by pick and covered with a vault of bricks and tiles.
The temperature differences here between the seasons caused problems and the roof was in particularly bad shape in places. Time and vandalism have done everything else. Soon it was completely dismantled: missing doors, windows, heaters, water pipes, lighting, a complete ruin. By mid-century and even in the 60s it was partially rebuilt. Three restored rooms with bunk beds, living room with fireplace, kitchen, bathroom and services.
However at present is again dismal * state of conservation, but can always be useful for shelter from inclement weather. You can use the lounge, which has a table with benches, and a couple of rooms with bunk beds, but no mattresses.
The door fits well, and closes with latch. You can find water in the nearby Laguna de Lanjaron in summer (about 15 min.) Or half hour descent to Lagunillas de la Virgen.
In 2012 Accion Sierra Nevada hope to start a program of major building and restoration work.