Need some gear for your adventures in the Sierras? Dont be weight penalised by the airlines! We have a fully stocked rental facility here in Lanjaron in the heart of the Sierra Nevada. Winter or summer we have the following available at reasonable hire rates.
N.B Our own courses and holidays include the rental of equipment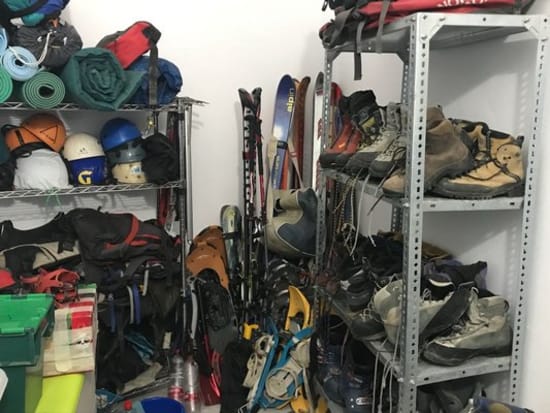 Snowshoes
Various makes of snowshoe:Tubbs, Camp, TXL, Salomen. The old fashioned ones on the right even ascended Mt McKinlay 20 years ago!
Current rental rates (€)
| Equipment | 1 day | 2-5 day rate |
| --- | --- | --- |
| Avalanche Transceiver | 20 | 15 |
| Transceiver, Probe, Shovel | 20 | 15 |
| Crampons | 10 | 8 |
| Harness | 6 | 5 |
| Helmet | 6 | 5 |
| Ice Axe | 7 | 6 |
| Ice Hammer | 7 | 6 |
| Pack (large 60-70l) | 15 | 12 |
| Pack (med (35-50l) | 10 | 8 |
| Rock shoes | 10 | 8 |
| Outer Rain Jacket | 10 | 8 |
| Rain pants | 10 | 8 |
| Snow Shovel | 10 | 8 |
| Snowshoes | 15 | 13 |
| Stove | 10 | 8 |
| Gas cylinders 250cc | 10 | 10 |
| Trekking poles (2) | 7 | 6 |