Short Expedition Preparation Course in the Sierra Nevada, Spain
Spain's Sierra Nevada is a perfect preparation for Expeditions to polar regions or greater ranges
Dates- December to May
Prices - from €75 per person per day
Accommodation - hotels from €30 per person per night (sharing)
---
A short course (3 days/long weekend) building on our own experiences on the Patagonian Icecap to provide you with ideal preparation for your own future expeditions and adventures.
---
Techniques - for those not already aquainted
Ice axe use and braking
Correct use of crampons
Roping up for glacier travel
Crevasse rescue
Snow belays
Further Information
Pick up/drop off in Granada (Alhambra area) or Lanjaron, Alpujarras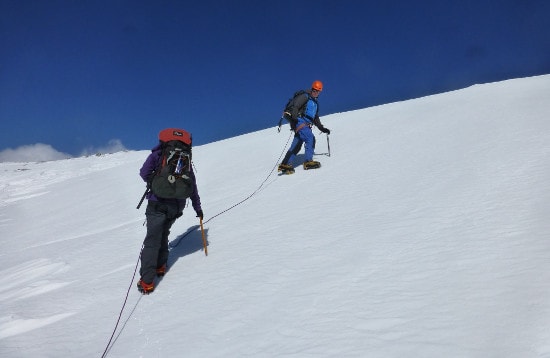 About the Expedition Preparation Course
---
In 2006 when we first went out to the Patagonian Icecap we had little idea really of some of the techniques required to survive for weeks in a wild and hostile environment. Over our past few expeditions there we have gained knowledge, tricks and techniques that we hope to pass onto others through this short 3 day/2 night course.
This is a practical course with 2 night out in the mountains of the Sierra Nevada.
The Expedition Preparation Course is an ideal "bolt on" to our successful Winter Skills Mountaineering or Alpine Introduction Courses.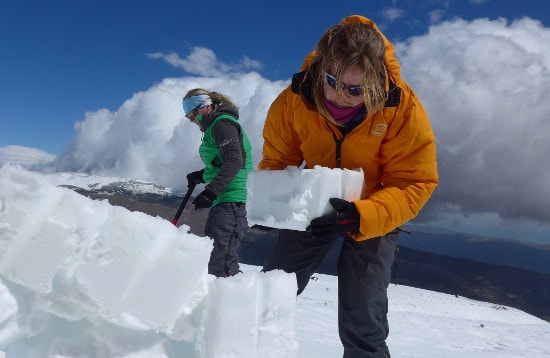 Typical Course Content
---
3 Day 2 Night Course
- topics covered:
Planning for an Expedition
Food and drink - choices and alternatives
Snow wall construction. A much neglected and complex subject. See The best snow wall construction to eliminate drifting on the leeward side
Snowholing and survival techniques
Putting up a tent in a blizzard - vital to practice!
Communications tricks and techniques with base. Rescue?
Transportation with Sleds and Pulks
Snowshoeing
The right mental approach!
Ask yourself .... are you ready for this?
---