Learn basic use of ice axe and crampons, simple winter belaying and alpine skills to give you the necessary confidence to go off and enjoy the winters mountains.
We have been running these winter skills mountaineering courses here in Spain's Sierra Nevada mountains successfully since 2003. In that time we have helped hundreds of hill walkers and scramblers to take their first steps in becoming winter mountaineers and budding alpinists.
Exact itinerary will of course depend on weather and snow conditions prevailing at the time, but be prepared for 2 instructional days followed by two practical ones climbing peaks in the area. Want a sample of what you can expect? Below was a course from last year
Initial skills day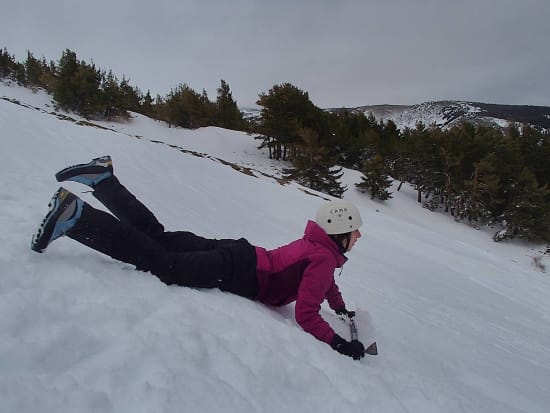 Ice axe braking
In cold and cloudy weather we ascended in 4WD vehicles to our quiet and secluded training area above the spa town of Lanjarón in the Alpujarras. It is normal for course participants to feel a slight trepidation about the day to come, but with the help and expert instruction of our guides, clients soon feel happy throwing themselves head first down icy slopes, confident in their ability to brake.
And that is mainly what the first day is about. Basic use of ice axe and crampons and self arrest. Avalanche awareness is also covered in detail. It is a day of confidence building combined with basic mountain skills. Include a snowshoe in and out via the pine forests and it makes for an excellent day enjoyed by all.
"Thanks for such a great time & experience - lots of good learning too!" Angus Middleton
Blizzards!
We normally might include an ascent of Mulhacen, the highest mountain in Spain in our winter skills itinerary. This gives clients chance to go to high altitude in a big mountain environment. We stay at the guarded Refugio Poqueira overnight and during the week in winter we are usually the only people staying at the hut.
The ascent of Mulhacen is non technical but does give clients the chance to put into practice those initial skills learnt in the first days training. We consolidate their basic ice axe and crampon skills.
Last weeks trip was in very poor weather. Blizzard conditions meant a change of plan so instead of the main summit of Mulhacen we climbed directly up from the refuge to the south summit via steep snow slopes. Gave us a chance to instruct on navigation techniques in whiteouts and full on winter conditions.
A brief stop at the south summit before a plunging descent back to the hut via a long glissade and snowshoe. The party loved it. Proof that good weather is not always necessary to enjoy the high mountains.
We came back out to Capileira via the Poqueira gorge. This is the recommended way (not only by us, but by the National Park and Refugio Poqueira!) for extraction in bad weather. The route via Alto de Chorrillo being too exposed to strong winds and the acequia route on angled and sometimes avalanche prone snow and ice.
"Thanks for a terrific week" Dominic Carlyle
Bad weather the following day gave us an unexpected rest day.
**2 day mountaineering trip **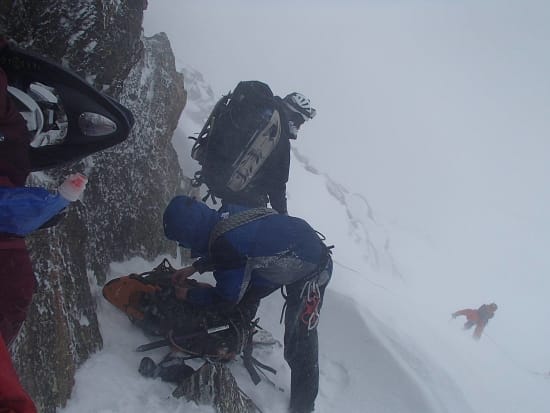 First winter route
For clients this is often the highlight of the week. A 2 day mountaineering trip bivouacking overnight in a ruined refuge. This means of course taking full equipment along for the evening. We also start to introduce ropes and winter belaying techniques. The second day sees ascents of some simple winter climbs.
For our party last week this was a very contrasting trip.
The first day saw glorious weather conditions, but the warm weather made the snowpack very soft and unstable. We chose our route carefully to avoid avalanches. Great experience for the team. We made the refuge by lunchtime and then spent the remainder of the day on winter belays and how to rope up for winter mountaineering.
We were treated to some amazing cloud formations as the strong winds whipped across the sky. An angry sunset brought the onset of bad weather as we settled down in our cosy shelter for a meal and early night.
Next day was a whiteout with head high spindrift bringing "scottish" conditions to this part of Spain. We roped up and headed uphill to the crags. Due to the weather we chose a simpler objective. A steep but simple snow slope. Good practice in our winter belays and ropework. At the top we lowered some ropes so clients could have a more "full-on" experience.
With the weather worsening we dropped down icy slopes to the forest edges where we put on snowshoes for a knee deep plunge through the pine forests back to the waiting vehicles.
_"Thank you again for our week of adventures.  I had so much fun and have learnt a lot.  Now, only a sore red nose is left, memories and the superb videos and photos" Ewa Chojnacka _
Below is a video from the 2 day trip. Thanks to Ian Tupman for this.
Why Spanish Highs Mountain Guides for winter skills mountaineering courses?
Spanish Highs guides all live locally and know the Sierra Nevada mountains intimately. They are hugely experienced, not only the Sierra Nevada, but also the Alps, Scotland and the Patagonian Icecap. Courses run on demand throughout the winter months which range from December to May inclusive. The courses are run on demand with a maximum of 4 to a guide. They provide ice axe, crampons, helmets, harnesses and snowshoes if required. The courses have been developed and refined with the experience of 15 years of winter activities here in the Sierra Nevada. More information about the courses.