Describes the sources from where can you obtain reliable water when walking in the high peaks this summer or when trying to complete "Los Tres Miles" 5 day traverse of the main ridge.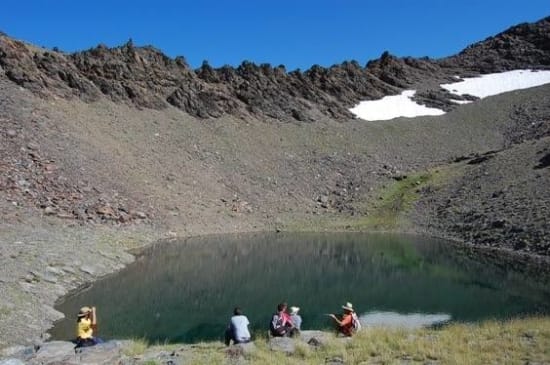 Laguna Cuadrada
Water shouldn't really be a problem after the wet winter just past, but the following should be a reliable guide even in the driest years. We always have obtained water from the following locations, spread and situated throughout the length of the main Sierra Nevada ridge system. I have tried to indicate the convenience throughout the text.
The Sources
Heading south from the Postero Alto hut near Jerez de Marsquesado:
Barranco del Alhori - will mean a slight detour into the barranco and an ascent from there up to the Pico del Jerez.
Laguna de Juntillas - a series of small lakes just SW of the Puntal de Juntillas. Means a descent of 150m from the main ridge.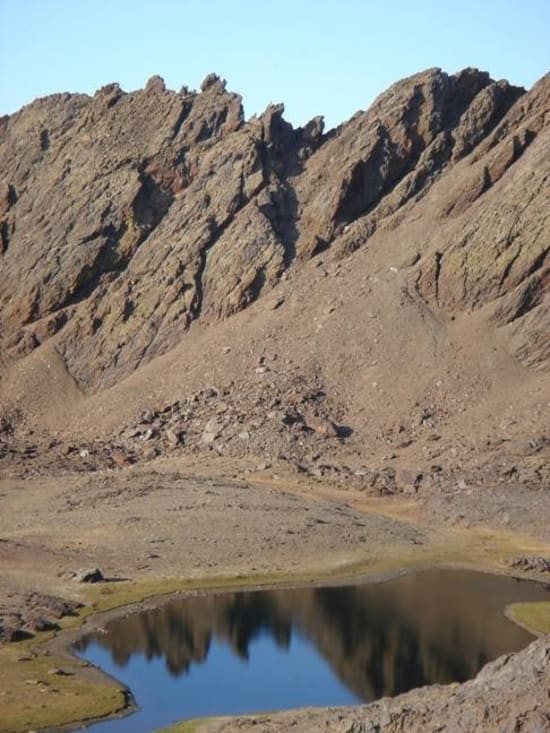 Laguna de Rio Seco
Laguna de Vacares - 80m SE down a steep track from the collado de Vacares on the main ridge.
Lagunas de las Calderetas - Small lakes between Puntal de Vacares and Alcazaba 100m down on the SE side.
Barranco de Goteron - north east of Alcazaba and passed on the main track when outflanking the crags of Alcazaba to the east.
Siete Lagunas - Loads of water everywhere!
Laguna de la Caldera - water levels may be low in the driest summers but this source never runs dry.
Laguna de Rio Seco - 80m drop south from the main ridge
Laguna de Aguas Verdes - East of the collado de Cariguela but unfortunately some 180m down. Only for masochists!
Lagunillas de la Virgen - useless if taking the scrambling on Tajos de la Virgen but next to the track if en route to the Elorietta hut.
Laguna de Lanjaron - very reliable but 200m drop SW from the hut.
Laguna Cuadrada - by the track if heading on the Verada Cortada track between the Elorietta and Caballo. Not an option if taking the main ridge.
Laguna de Caballo - right by the side of the hut.
Rio Lanjaron - always year round water. Accessible in the higher reaches or at the ruins at Tello some 2hours from Lanjaron.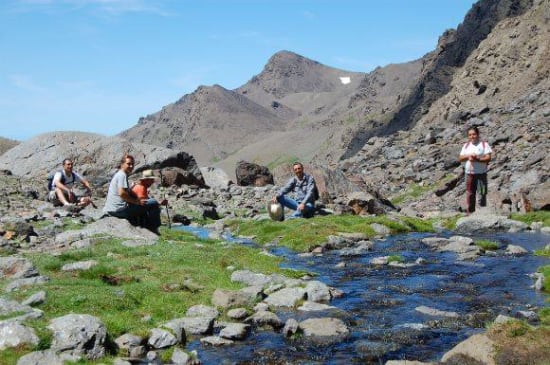 Near Laguna Cuadrada
Water purification
The water is normally pure and sweet but towards the end of the summer and early autumn you can get plenty of small red larvae in lake water. Always try to take from running water if possible. A water filter has proved very useful to us if these conditions exist. The alternative would be the various forms of tablets and purification methods available.