The Walking Holiday
The Alpujarra is one of Spain's most spectacular and unspoilt walking areas, with hikes in the Sierra Nevada mountains, and rambles through the meadows, orchards and white villages.
The holiday is based at CASA ANA, a gem of a guest house on the edge of Ferreirola, with magnificent views of the Trevelez river gorge. The house recently featured in the Times top 50 places for a holiday in Spain.
And who better to guide you than Chris Stewart, author of "Driving over Lemons" and himself a keen walker. Chris invites you to explore the area and share his deep knowledge (and great stories) about the history, culture and nature of the Alpujarra.
Chris says
Chris and dog walking

Ferreirola is about the prettiest village in the western Alpujarra, and that's where the enchanting Casa Ana is to be found. It's just up the hill from our farm. In September the heat of summer is over and the beautiful low light of autumn takes over. The poplars and pomegranates ought to be changing colour and there'll be the first hint of woodsmoke from the high villages of the Alpujarra.

It's a lovely season, and I can promise you that the food and wine will be of the best. The ambiente and conversation? Well that's up to me and you… What we plan is three or four walks around the Alpujarra – nothing too tough, although it's steep country, so you ought to be in tolerable good shape.

A day in Granada with a gourmet lunch at one of the city's best known restaurants and some mooching round the bars and bodegas of the mountain villages.
Highlights include
4 or 5 day-long walks exploring the Trevelez and Poqueira valleys

A day of walking in the high mountains

A walk from Casa Ana to Chris' farm El Valero and lunch prepared by Chris and his wife Anna (featured in Rick Stein's Spain on BBC2)

A day in Granada exploring the Moorish city with Chris and architect Rafael Anderson. Plus a degustación lunch at Francisco Lillo's famous bodega La Oliva

Ham and wine tasting at Antonio's bodega in Pampaneira

Gourmet dinners at Casa Ana with the region's most celebrated chef Wes Somerville

Meet young chef Guillermo for a dinner at his modern Spanish tapas bar Botanic in Capileira

Please note that we may have to modify the programme through changes in weather and other circumstances beyond our control.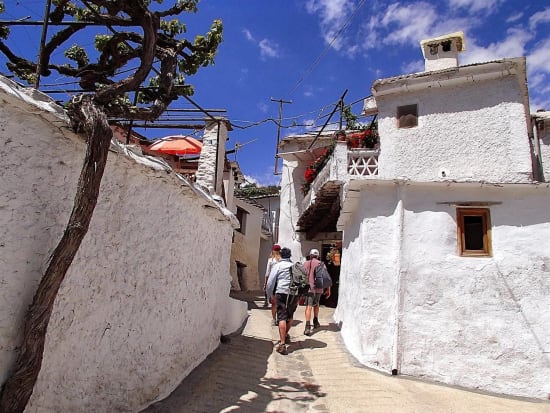 Walking through the white villages of La Taha de Pitres, Alpujarras
Price
€1075 per person sharing a room. €1275 for single accommodation. Price includes: bed and breakfast, picnics and lunches, dinners, wines, excursions, local transport and guides. Price does not include: flights, airport transfers
Walking level of challenge
Expect altitude gains of about 900 feet and 6 – 7 hours of walking per day. Bring sensible clothing and good hiking boots. Hiking poles are useful. Sun hats, sun glasses, sun block and a water bottle are essential.
Further information
For further information and bookings please contact Anne at Casa Ana on [email protected] or use our Contact Form