Here's a few tips sent in by John Halstead who's group attempted the "Tres Miles Integral" last summer. _
The Plan:
Our party of four (average age 60) planned to do the whole route from the Loma de los Cuartos travelleing SW. At the last minute we decided to reverse our route on advice from Richard as there was a car rally taking place in the area which closed the roads leading N out of Lanjaron. In reality we only got as far as the Laguna de Vacares on day 4 before turning East and heading for the Horcajo Forestry refuge, from where we walked down to Trevelez for the pick up on day 5. Even this truncated route was 31 miles overall. I would say that the section from Alcazaba north to Vacares is the toughest on the route, with lots of boulder hopping to get around the 20m peaks which are shown as mere spot heights on the map as the Spanish Cartographers don't seem to have a word or symbol for "Crag" or "Cliff". It was a shame we had to leave the route at this point as it gets easier further on.
Support from Spanish Highs:
The support and advice given to our party from Richard and his team was first class. We had a good chat and a briefing over a few beers at the Hotel Espana on the day before we started which answered all our questions and so we felt ready to go. One of our party had to abort after day one due to a bout of tonsillitis, so we phoned Richard and he picked him up at the road head and sorted out his extra accommodation at the Hotel.
Food, Kit & Shelter
We planned to camp on all four nights, but by doing the route SE to NW, we found that the Caballo and Caldera refuges were in excellent condition, so we used them on the first two nights. Richard told us afterwards however that the Caballo hut is not weatherproof so if it rains or is covered in snow, the floor will be wet. The Caballo refuge has just a plain concrete floor whereas the Caldera has 2 wooden sleeping platforms and a table & benches.
We all used expedition dehydrated foods and found them to be both filling and tasty. Porridge for breakfast, snacks and dried fruit for lunch etc. Prior to leaving the UK I found some John West foil sachets of tuna in Asda (long life) which together with a packet of Sandwich Thins made a quick and tasty lunch.
With regard to water on route, there is plenty if you plan your route carefully. We topped up whenever we found a stream and the water quality was good, however the two refuges mentioned earlier have lagunas next to them with no outflow, so I would recommend the use of water filters. I carried 3 x 750ml bottles and never ran out.
Wildlife:
We were warned about the problems with foxes but never saw any on our trip. What we did see was lots of Ibex which aren't a problem but also lots of cows which are, as they defecate everywhere particularly around the water sources in the Siete Lagunas area. Another reason to carry water filters. You can hear them everywhere as they have bells around their necks and they get up to well above 3000m.
Phone Comms:
Practically non existent except on the higher peaks. Even then we struggled. Take more than one phone in case a party member has to turn back.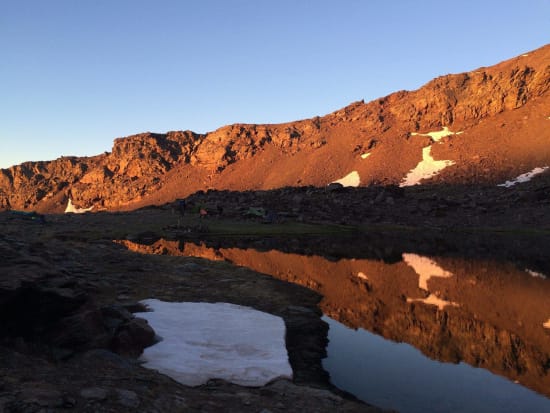 Laguna de las Calderetas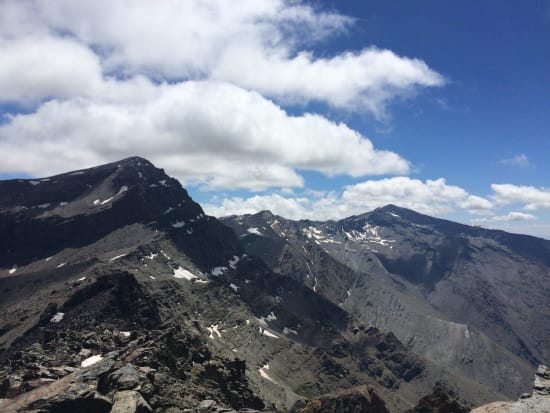 Looking south from Puntal de las Calderetas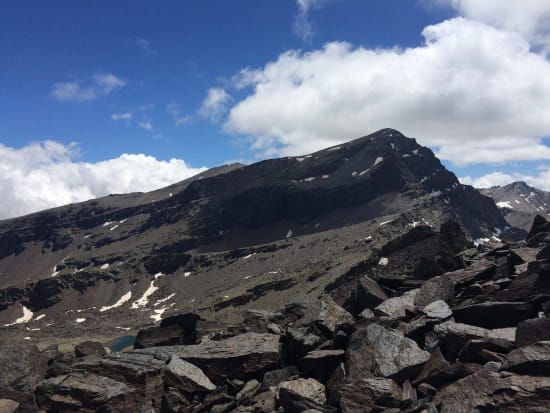 Cliffs of Alcazaba