Thursday we leave for Argentina and one of the last true wilderness areas on earth, the Patagonian Icecap. Who knows what adventures it will bring? What surprises it has in store for us?
It's been a long time coming, our last trip was in 2011 (and what a glorious expedition that was!). This year we attempt the "Ruta de las Nunataks", a rarely done route. We could only find one reference to it on the internet. This route visits Nunatak Witte and Nunatak Viedma traversing down the western side of the great "Campo de Hielo Continental Sur" Icefield. From that icefield (the largest outside of the polar regions) hundreds of glaciers feed the pampas of Argentina and westwards to the fiords of Chile, including the famous Perito Moreno, Viedma and Upsala glaciers. It is quite simply, unique!
The Southern Patagonian Icecap is some 300 km long and 50 km wide stretching between Argentina and Chile. If we are in luck with the weather we shall attempt "Cerro Moreno" a remote, shy and retiring peak in the center of the ice. The ascent via it's east ridge will require good calm weather (rare in Patagonia), lots of stamina and steady heads. There are 8 of us going, including expedition leader. Richard Hartley and Kiersten Rowland from Spanish Highs.
Patagonia needs patience and you can be tent bound for days. For sure, there will be uncomfortable and difficult moments to come. But therein lies the attraction. The rewards are massive! Views of the western faces of some of the most dramatic peaks in the world, Cerro Torre, Torre Egger and Mt Fitz Roy to name but a few. An incredible sense of isolation will be felt and help is a long, long way away. The team will have to be fully self supportive.
Yes, it's a big challenge. Will we succeed? Who knows? We are in the lap of the weather gods. But that is what makes it so worthwhile and such a life changing experience!
Each day the team will be reporting and tweeting from the Icecap.
We would like to acknowledge the support of the following for this expedition
Steph Ball - weather information
Clive Fenn - Construction of sledges/pulks
Ian Tupman - General support and printing of maps
Yellowbrick Trackers - Sat Comms
Alison Edwards - Expedition Gilets and T-shirts
Supply of munchies and unbelievably tasty expedition food from
Sharon and Richard Iocono

**Pam of Fluoroheaven **
Anne and Doug Rowland - Constant supply of expedition materials from the UK
Sue Halfyard and Andrew Phillips - Dog sitting!
The Spanish Highs team remaining in the Sierra Nevada and ensuring "Business as Normal" .....
Felipe Nieto

Jens Foell

Emma Hartley

Pepe Badaje

Jesus Contreras

Javier Aguirrebengoa
If we have left anybody out, oops sorry. Unintentional due to lack of sleep!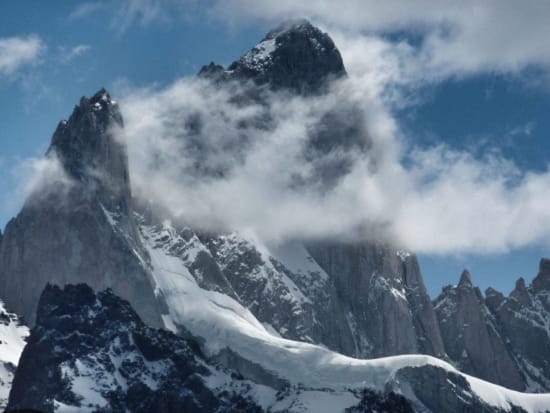 Mt FitzRoy from the SE