Sometimes you can get caught out by the weather, normally bad weather. But this time the weather was good, too good! Our day trek in the Tabernas desert badlands of Almeria turned into a very hot walk indeed.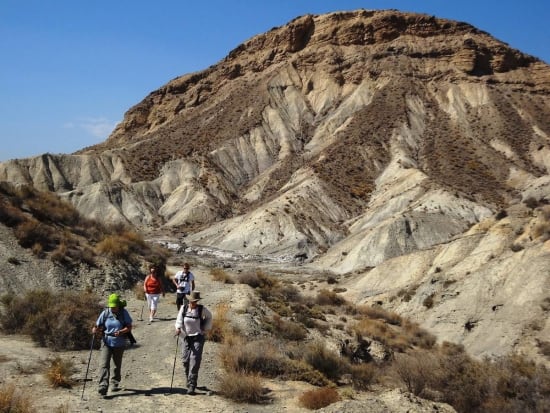 Spectacular desert badlands scenery, Tabernas
Due to the heat we don't normally visit the deserts from mid-June to mid-September. But at the beginning of September the fierce heat of the spanish summer had given way to the gentler conditions of early autumn. We were fooled into thinking a walk in the desert would be ok. The day before the walk AEMET, the spanish weather forecaster, announced that temperatures would rise again to 35C in parts of Andalucia.
When we all met up opposite the western studios at Mini Hollywood, we were truly an international outfit consisting of 1 dane, 2 belgians, 1 spanish and 3 brits. Our regular day trek consists of a circular route with a "loop" in the middle taking in some very dramatic and interesting ravines.
The first section is a gentle introduction into the superb scenery that makes up this remarkable landscape. A drop down into the Rambla de Tabernas and we came across twisted, tumbled and torn cliffs. Following the rambla we visited movie locations from the "The Good, the Bad and the Ugly", "Indiana Jones and the "Last Crusade", "Lawrence of Arabia" and many more.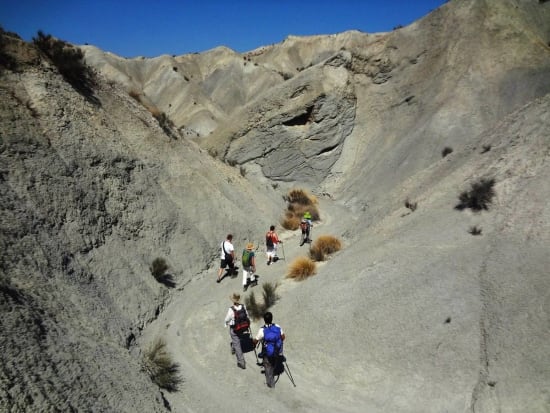 Dry narrow ramblas
Our "loop" was the highlight as it normally is. This has taken a bit of research and exploration over the years to perfect. It involves some steep and loose terrain, but nowhere requiring the use of hands. For those wearing shorts, be prepared for rough tough and very spiky vegetation! At times the narrow ravines are only one person width and the feeling is that of being in a "maze". Not a place to be in rains. It was very noticeable that there had been a lot of flood and landslide damage.
Coming out from our "loop" back into the Rambla de Tabernas we began to notice the heat. The second half of our walk became more and more uncomfortable. Fortunately there was not a lot of uphill remaining. We came across a salty plateau giving great views in all directions. Then it was a quick retreat out of the inferno to a welcome beer at a local petrol station.
Although I have now been here over 30 times, I never tire of this area. The spectacular Tabernas desert scenery is simply amazing. The area doesn't lend itself to circular routes and you should be prepared for some tough exploratory lessons! Alternatively, you could join us on one of our desert day tours?

Some of the amazing walking trails