Article written by Richard Hartley, founder of Spanish Highs, Sierra Nevada and author of the Cicerone Guidebook Walking and Trekking in the Sierra Nevada
As the years have passed and the legs and body feel the pace of romping up and down hills, I have been travelling down the road to the elusive "Lightweight Backpack" system. This is the Shangri-La for many long distance trekkers and backpackers. But finding this place is very difficult. By it's very nature you become obsessed with every gram, every ounce of additional weight that is not required. And yet, the search never stops. There are always things to improve on. The conclusion is, there is no absolutely perfect lightweight backpacking solution!
But we can get close. In this article I will attempt to explain what I intend to carry round the mountains of the Sierra Nevada this summer. Of course, everybody has different needs and requirements. This is mine. Bear in mind, I'm no expert, this is just what works for me. Please use it as a guide and I strongly encourage you to develop your own solution of what works for you.
You need to be utterly ruthless regarding weight. Every gram matters!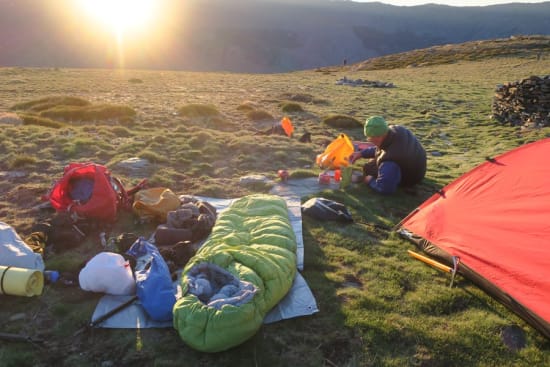 Chaotic campsite breakfast at sunrise in the Sierra Nevada
Firstly, my current list of equipment for multi day trekking in the Sierra Nevada
All figures below are grams. N.B excludes water (see note below table)
| Item | Manufacturer | 1 night | 2 nights | 3 nights |
| --- | --- | --- | --- | --- |
| Rucksack | Golite Pinnacle | 964 | 964 | 964 |
| Cooking kit | Stormin Cone Stove | 276 | 276 | 276 |
| Fuel (alcohol) | | 60 | 120 | 180 |
| Food | | 300 | 600 | 900 |
| Sleeping mat | Sea to Summit | 300 | 300 | 300 |
| Sleeping bag | PHD | 640 | 640 | 640 |
| Tent | Crux X1 Raid | 1500 | 1500 | 1500 |
| Water Bladder | Hydrapak | 135 | 135 | 135 |
| Sunglasses | Adidas | 141 | 141 | 141 |
| First aid kit | | 340 | 340 | 340 |
| Phone | Oneplus | 218 | 218 | 218 |
| Battery charger | | 68 | 68 | 68 |
| Insulated jacket | PHD Ultra Down K Series | 240 | 240 | 240 |
| Buff | | 40 | 40 | 40 |
| Wallet/passport | | 80 | 80 | 80 |
| Suncream | | 25 | 25 | 25 |
| Lipcream | | 25 | 25 | 25 |
| Camera | Canon G9X incl case | 312 | 312 | 312 |
| Water Filter | Sawyer | 87 | 87 | 87 |
| | | 5751 | 6111 | 6471 |
Water
Will depend on when and where I am going, available water sources en route and how hydrated I am to start with. This is why I have excluded from the above list.
I use a Shapesfhift 2 litre Hydrapak bladder system in the summer months. This is supplemented (naturally, as I live there!) by an old 1 litre Lanjaron water bottle. Cheap and effective.
A water filter is recommended for use from end of July onwards. I find the Saywer Water Filters a great lightweight option
Waterproof Jacket
You may notice a waterproof jacket isn't included in the above list as my Berghaus Softcell Jacket is normally sufficient for the odd shower. In late summer we can get a short, sharp afternoon downpour so I might bulk up and take my Rab Latok Alpine Jacket weighing 517 grams.
What will I will be wearing?
Approach shoes, socks, lightweight trousers, sun hat with neck shield, thin thermal base layer, softcell jacket/vest, trekking poles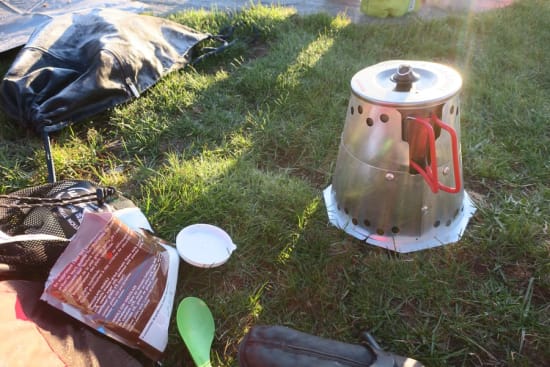 The Stormin Cone Stove in action
Cooking System
This year I am using a Stormin Cone Stove alcohol cooking system. Just completed a 3 day/2 night high altitude trip using this small alcohol stove. Worked great if you are prepared to wait 10-15 minutes for a boil (I am). Including a 900ml Titanium Evernew pot the whole system weighs in at just 276gm. Fuel weighed 120gm. Great for us old foggies with dodgy knees! Only €31 (baseplate, stove and made to measure windshield cone) delivered to Spain. Recommended for lightweight enthusiasts.
By using an alcohol stove you can work out exactly what fuel you require. This means you return from the mountains with no fuel weight, unlike gas cartridges etc. here in Spain the "Alcohol de Quemar" can be purchased from many hardware shops (Ferreterias) and supermarkets. I managed to buy a litre (admittedly slightly perfumed) for €2.70, so very good value for money and much cheaper than gas cannister alternatives.
Food
I tend to be able to not to eat too much on a trip so can probably carry less food than most people. Per day I usually would take a soup, 2 hot drinks (coffee and hot chocolate) and evening meal (125gm). Also I carry some cereal bars/flapjacks for snacks and energy during the day. You may need to bulk this up a bit?
I am currently using freeze dried evening meals from Be Well Expedition Foods. I find them tasty and eminently suitable. I use the 125gm meals but they do 159gm and 180gm versions too for bigger appetites.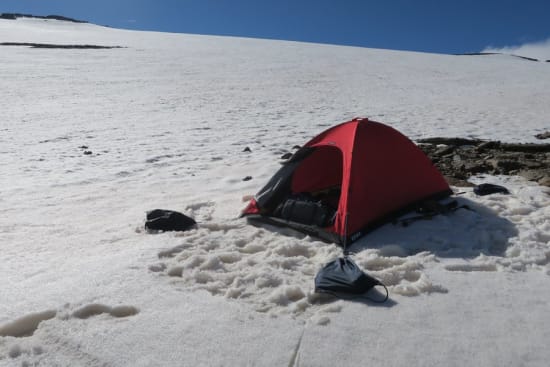 South of Mulhacen - Cruz Raid tent firmly anchored with gym bags!
Tent
My list includes the Crux Raid X1 tent which weighs 1.5kg. Much lighter options exist for a summer bivvy I know. A bivouac bag is all that is required and many do sleep out just with sleeping bag and mat. I like a tent though and also for me, as a guide, it serves as an emergency shelter should any clients get into trouble. Saves me carrying a separate bothy bag.
I like the Crux X1 Raid. Its pricey and a bit tight for 2 persons, but is an incredible single skin tent. It's simple, but very strong 2 pole system is easy to put up in rain or bad weather (thankfully not much of that in a summer Sierra Nevada!). The unique X-Tex fabric actually works better than convential Gore-Tex at keeping condensation down to a minimum. I have used in full winter conditions too.
I have disposed of all the tent pegs supplied as I prefer to anchor using 4 cheap gym bags. This I can fill with stones, rubble, sand, scree sand or snow. Its quick, easy and always creates a stable anchor system. There are some lightweight snow/sand anchors produced by MSR but they are quite pricey and, from my experience, don't work as well.
Sleeping Bag/Insulated Jacket
I like PHD Designs gear for its weight/warmth ratio. But it is costly. Suggest you get on their mailing list for their spring and autumn offers. I have picked up most of my PHD gear this way.
Sleeping Mat
I have a small Sea to Summit Ultralight Sleeping Mat. It is very light, but somewhat flimsy. I was a bit worried about how it would perform on the rough ground of the Sierra Nevada so I also take a piece of black plastic to act as a groundsheet/protector.
Rucksack
On our early expeditions to Patagonia we had to carry over 23kg. I used a Deuter Air Contact Pro. Then I realised that the rucksack itself weighed in at a hefty 3.5kg! Sure, it had a superb carry system but if I could only reduce the weight? On recent expeditions I have the replaced the Deuter with a Mountain Hardware South Col at 1.6kg. A massive saving. In conjunction with other weight savings my Patagonia Expedition pack now weighs in at 17kg.
Ok, I've rabbited on enough! Point is, make sure you take into consideration empty pack weight. In the summer Sierra Nevada I shall be using a 964g Golite Pinnacle. For single night trips I think I might even get away with a Montane 23 litre Featherlite sack.
First Aid Kit
I ditched the standard Mountain/Expedition first aid bag and designed my own using plastic freezer bags. Remember ...... every gram counts!
Included here I would have a small toothbrush and toothpaste
Sun and lip cream
Re-homed from their standard packaging into small tubs (make-up containers actually)
Camera Equipment
Tough one this. I love to take photos of the landscapes I come across. So, it's a balance between weight and quality that you will each have to make. For lightweight trips I normally would use a Canon G9X (28-84mm zoom) 312 grams including case. If a trip could be expected to give incredible photo opportunities then I may be tempted to take my Canon G3X (24-600mm zoom) around 900 grams including case.
Of course these days, many folk use their own mobile phones for outdoor photography. If you are one of those then you will get an immediate weight saving over and above my list above.
Websites and Internet Resources
A good resource I like is Ultralight Outdoor Gear. Items are listed by weight. I then use Google to check out more online reviews of items that I may be interested in. This way I can gain a cross section of reviews from all over the world, but mainly from the US and Europe. Sometimes I buy from Ultralight Outdoors (as they deliver free to Europe) or I may buy from other internet sources.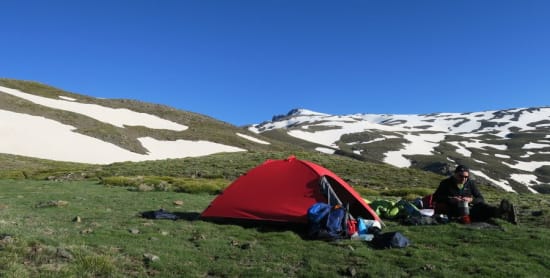 Morning sun on Alcazaba from La Campiñuela