'Inspiring The Adventure', proclaims Spanish Highs' blog. And it was reading some of their recent trip reports and looking at photographs on their website that inspired MY latest adventure: a traverse of Spain's Sierra Nevada mountains taking in as many as possible of the 3,000+ metre peaks (Tres Miles) that I hadn't already climbed.
My previous forays into the Sierra Nevada had been centred on the south western 'honey pots'; Mulhacén, Veleta, Cerro de los Machos, Cerrillo Redondo and Cerro del Caballo; all of them 'Tres Miles' but all of them relatively accessible and consequently, popular. What I wanted was to get off the beaten track and break new ground by visiting the more remote peaks to the north of Mulhacén. It wasn't to be a 'peak-bagging' exercise but an adventure. Something to challenge me. Something to excite the senses. But most of all, something to savour and to remember.
Once again, my friends at Spanish Highs Mountain Guides were most helpful when it came to route planning and advice and, after some discussion, an itinerary was agreed. It would take me from the far north-east summit of Picón de Jérez, along the main Sierra Nevada ridgeline and down to Pico del Tajo de los Machos in the south west, a distance of 41km over three days. It would involve scaling peaks of shattered rock, bivouacing by isolated mountain lakes, encountering the native wildlife and enjoying some jaw-dropping views.
The weather forecast for the first week of September looked settled, with light winds, sun and no rain. And so, in the early evening of 3rd September, Spanish Highs dropped me off at the National Park barrier on the track leading to the Peña Partida refuge. A gentle two hour walk along the undulating ridge brought me to my first night's bivouac site at the Lavaderos de la Reina. This is a natural bowl and at 2,500m it provides quick and relatively easy access to the 3,000m level.
It is a beautiful spot with numerous small lagunas fed by a stream. Had I been camping, I would have slept next to one of the lakes but I had chosen to take a bivi bag, sleeping bag and mat so I opted for a sheltered spot behind a large rock. I ate my meal, set up the fox deterrent that I had borrowed from Spanish Highs and settled down for the night. There followed my usual fitful sleep: wide awake one minute and in dreamland the next. Is it just me or does everybody sleep like that outdoors?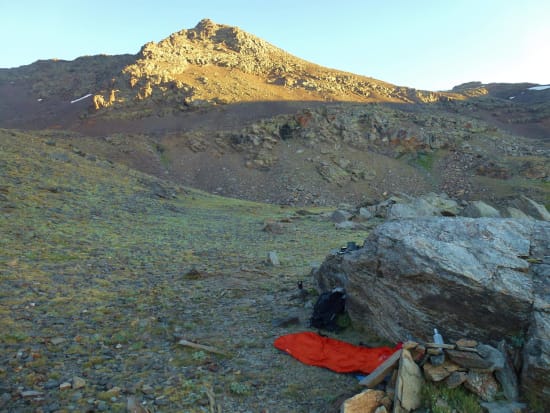 Bivouac at Lavaderos de la Reina
DAY ONE Lavaderos de la Reina to Lagunas de las Calderetas (7 hours, 13.5km and 1,400m of ascent)
I woke at around 08.00 feeling refreshed and relaxed but I was in no rush to get out of my sleeping bag. The sun still hadn't reached me and it was a little chilly so I enjoyed another half hour of slumber before I got up and breakfasted. I was packing my gear when my mobile chirped. It was a message from Spanish Highs saying that they would be taking a client up to Mulhacén to spend Thursday night on the summit to see the sunset and sunrise.
An hour later and I was on the summit of Picón de Jérez (3,090m) with superb views in all directions. There is a real feeling of remoteness up there and apart from one other person who had walked up from the Postero Alto refuge, I was to see no-one else for the next two days. My route took me south along the broad ridge to Puntal de Juntillas (3,139m) and then on to the outlying peak of Cerro Pelao (3,181m) from where the whole of the main Sierra Nevada ridge is set out before you.

Looking south west from Cerro Pelao with Mulhacén, Alcazaba, Cerro de los Machos and Veleta prominent on the skyline
I turned back north and then contoured west above Laguna de Juntillas to rejoin the main ridge and on to the summit of Puntal de los Cuartos (3,158m). From there, the ridge becomes a broken jumble of large boulders as it rises again to Atalaya (3,135m). Like most people, I hate surrendering hard-gained altitude but the 150m of descent to the Collado de las Buitreras is unavoidable if one is to continue on to the Pico del Cuervo (3,144m). From here, the main ridge runs due south but I took another detour, this time to the north-west to gain the peak of Cerro del Mojón Alto (3,107m). This provides a superb panorama of the central peaks.

Alcazaba, Mulhacén, Juego de Bolos, Cerro de los Machos and Veleta from Cerro del Mojón Alto
I retraced my steps to where I had left my pack and continued south on the rocky descent to Collado de Vacares. It was 14.30 and getting hot. The route ahead looked daunting: a steep climb over loose ground to the summit of Puntal de Vacares. I was tempted to drop down to the Laguna de Vacares for the night but after a short rest and a few jelly babies (Bassett's of course) I decided I would rather stick to the itinerary rather than have to climb back up to the ridge in the morning and then tackle a further 240m of ascent while still digesting my breakfast. The summit of Puntal de Vacares (3,136m) comprises large, blocky boulders and is similar to some of the southerly peaks but offers more spectacular views.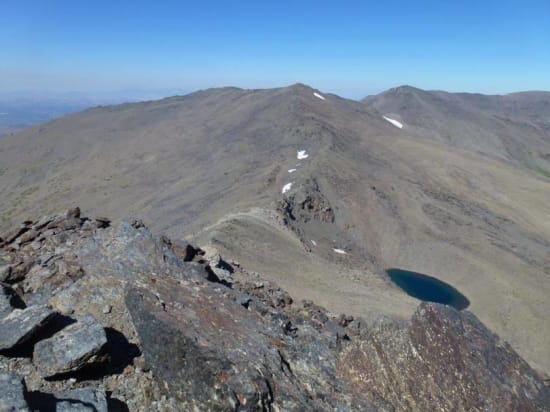 Looking north from Puntal de Vacares with Laguna de Vacares on the right
200m below me, the Lagunas de las Calderetas looked cool and inviting but a long, tough descent through boulders and scree had to be negotiated before I reached the largest of the lakes at 16.45. I had hoped to find fresh, running water but the only source was the laguna which was teeming with numerous small beasties. Being a fifty-something, I now carry 'Tubigrip' in case my knees require additional support but the bandages also make excellent water filters and after straining out the visible detritus, I boiled the water and filled up my bottles.
I found the perfect bivi spot for the prevailing wind direction (I later discovered that it had been made by one of Spanish Highs' clients a few weeks earlier) and I enjoyed my evening meal before I snuggled into my sleeping bag. I laid back to watch the star-filled sky to the sounds on my MP3 player but it wasn't long before a group of cabras monteses was grazing within a couple of metres, completely oblivious to my presence. A magical moment.
DAY TWO Lagunas de las Calderetas to Mulhacén summit (7 hours, 9km and 1,250m of ascent)
The fox deterrent worked again. Or had the foxes just had a night off? I wasn't sure. The important thing was that my food and all of my kit was still in my pack in the morning. I had another leisurely breakfast, knowing that I had a relatively easy day ahead.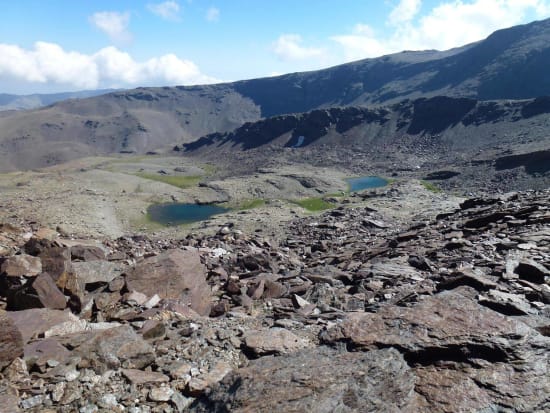 Lagunas de las Calderetas]
Setting off just before 09.30, my route initially took me south-east to circumvent the Raspa de los Acucaderos before turning north-west towards the Laguna del Goterón. There is no path here, just a series of small cairns in a sea of broken and jumbled rock. I knew I had to keep to the west of the laguna but I went further west than I should have. I was scrambling over and between huge boulders when I spotted pieces of twisted and buckled metal.
A little bit further and an engine came into view. I had stumbled across the wreckage of a DC-6B which, according to one internet source, had been flying from Palma de Majorca to Port Etienne when it crashed on 2nd October 1964. All eighty people on board died and some reports say that residents of Trevélez were later seen wearing leather coats and designer shoes, salvaged from the wreck. Another version is that it was an American military plane that had been searching for atomic bombs that had fallen on Palomares. Whichever version is correct, I felt sad to be close to where people had died in such tragic circumstances.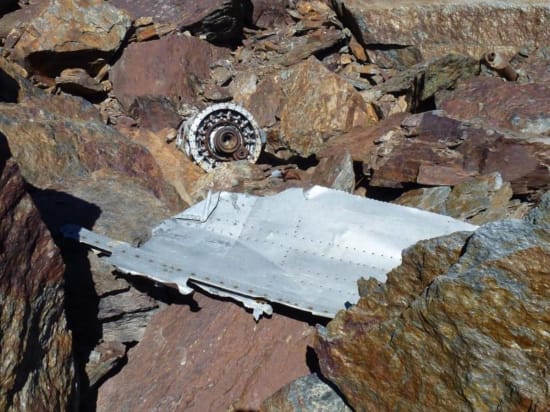 Wreckage from the 'Avion del Goterón
I reached the ridgeline and the Puntal del Goterón at 11.00. From there, the path swings around onto the north face of Alcazaba and then, according to the map, it climbs steeply directly to the summit. I must have had cairn fixation because I missed the left turn and carried on along the Gran Vasar.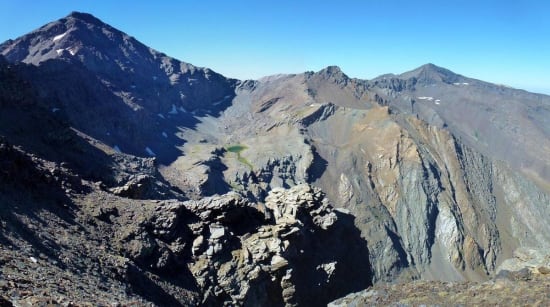 Looking south-west from Alcazaba's Gran Vasar
When the north face of Mulhacén came into view, I knew I had gone too far but a steep gulley on the left looked promising and I scrambled up through the loose scree until I popped out at the top. A left turn and ten minutes later I was on the summit of Alcazaba (3,371m). I spent thirty minutes there, absorbing the views, snacking and re-hydrating. Forty minutes later I was sitting by one of the Siete Lagunas, enjoying the warm sunshine and the sound of the water in a nearby stream. This really is a place to lie back and relax.
I left Laguna Hondera at 15.00 and took the well-trodden path up the south-east flank of Mulhacén to reach the summit (3,482m) at 16.20. A large group was just leaving the summit as I arrived and I had it to myself until a smaller group arrived half an hour later.
Moist air rising up the north faces of the main peaks and the south-westerly breeze combined to form a spectacular wall of clouds.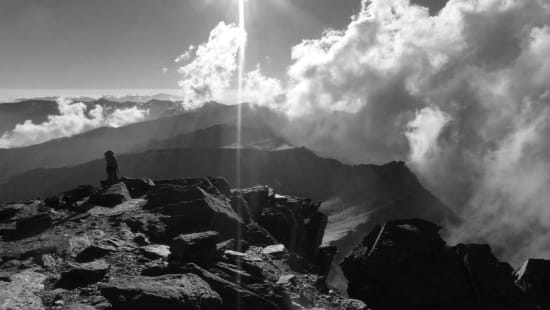 Looking west from the summit of Mulhacén
I looked around for a suitable bivouac spot and settled on the remains of one of the cartographers' huts. Richard and Laura arrived at around 18.30 and we spent the evening chatting and photographic the ever-changing views around us before we witnessed a stunning sunset. As soon as the sun dropped below the horizon, the temperature fell to around five degrees and so we ate, drank and got into our sleeping bags.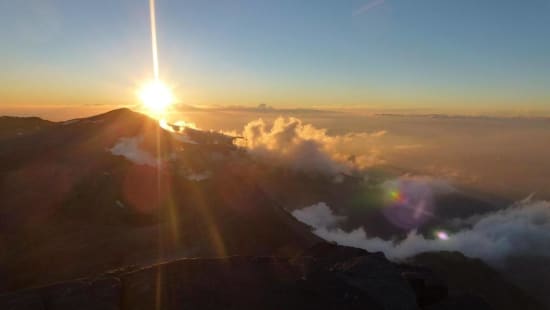 Well worth the wait. Sunset from the roof of Spain
DAY THREE Mulhacén to Refugio Cebollar (7 hours, 18.5km and 500m of ascent)
Just before 07.00, the eastern sky began to brighten, heralding the sunrise. We got up, packed our gear and sat and waited. And waited. And waited a bit longer as the sun pushed its way up through layers of cloud on the horizon until it finally appeared and brought us instant warmth.

Sunrise from Mulhacén summit
Richard and Laura left me to have my breakfast and they headed back down to Capileira. Richard had to get back to Lanjarón, pick up some friends and set off up to the Cebollar refuge where we would all meet up later in the day.
I left the summit at 09.45 and set off down the west face, reaching the old road in less than half an hour. I stayed on the road, passed the Villavientos refuge and eventually reaching the Carihuela.
I had never traversed the Tajos de la Virgen ridge and Spanish Highs had given me some pointers to help me find my way across it. I set off following the obvious cairns but I soon had to negotiate some airy situations. My large pack was becoming a hindrance, throwing me off balance in places where good balance was essential and I made the reluctant decision to abandon the ridge and spent the next hour scrambling down a rough gulley to reach the lower path and the Lagunillas de la Virgen. From there it was a steady plod up to the Elorrietta refuge for a short rest before setting off on the last leg of my trek.
I have climbed Pico del Tajo de los Machos several times but never from the north and the approach provided good views to both the east and the west. I reached the summit (3,085m) at 14.45 and had a brief rest before I made the final descent to the Cebollar hut.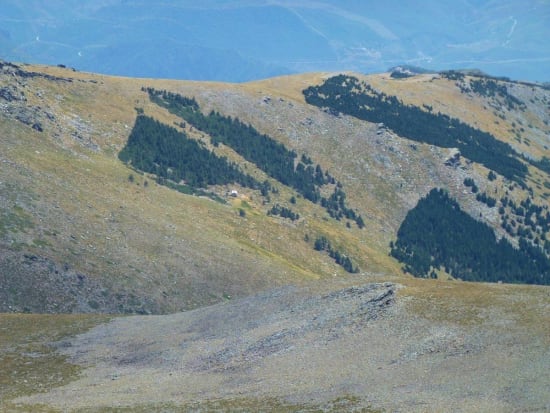 The abandoned Refugio Cebollar (centre) and journey's end
The Spanish Highs team arrived shortly afterwards, bearing tins of cold beer, wine and an assortment of home-made goodies, all of which went down very well after a diet of pasta and snack foods. We sat and chatted, enjoyed the sunset and settled down for the night.
Dawn brought low cloud and rain but a fifty minute walk out to the car saw us back in Lanjarón by mid-morning and we enjoyed a hot breakfast together before going our separate ways.
Reflections
This was a SUPERB trip. There is no doubt that it is tough and committing, especially the section to the north of Mulhacén and especially if it is done solo. I had crossed terrain that was new to me and that is always exciting. At times I had felt isolated and vulnerable but my over-riding feeling was of contentment; enjoying my surroundings and feeling part of the scenery, rather than just passing through it.
And finally, no, I didn't complete the Tajos de la Virgen ridge but it isn't going anywhere. I'm already thinking of a winter traverse with a smaller pack.
Ian Tupman
September 2013