Guest writer and guide, Leo Ruiz Platt, describes one of his most memorable adventures here in the Sierra Nevada
The east face of Cerro de los Machos is one of the most attractive routes for mountaineering in the Sierra Nevada and although it is infrequently climbed, it is a dream of many. From the base of the face to the summit (3327m) there is at least 300 meters of ascent, some routes there reaching 500 meters.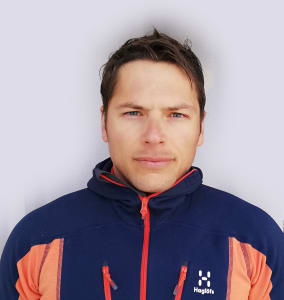 The author, Leonardo Ruiz Platt. Guía de Montaña.
Translated from spanish by Richard Hartley and Emma Hartley of Spanish Highs
It was the end of November in 2015 and we are unable to resist the temptation. Three friends and I are preparing to climb the most vertical face of Cerro de los Machos.
The east face of Cerro de los Machos is one of the most attractive routes for mountaineering in the Sierra Nevada and although it is infrequently climbed, it is a dream of many. From the base of the face to the summit (3327m) there is at least 300 meters of ascent, some routes there reaching 500 meters.
We left early from the Hoya de la Mora, situated at 2500m altitude above the Sierra Nevada Ski Resort. Reaching the base of the route usually takes three to four hours. During the approach I realize that Miguel has difficulties keeping up. He is tired and this worries me as the route is complex and it's necessary to be in shape. Not only that, we need to make an early start on the ascent as the days are short at this time of year.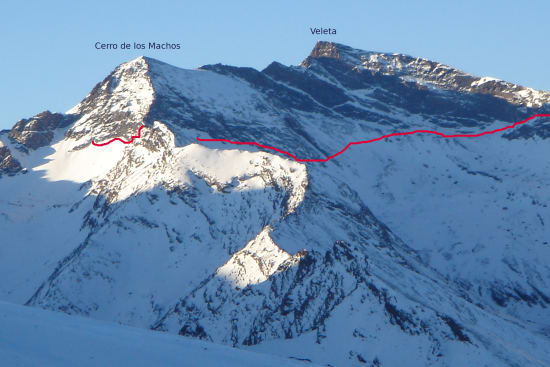 The approach route to the start of the climb
Paco, his brother Antonio and I are already at Posiciones del Veleta 3100m, the key point of the approach. We have taken longer than necessary and Miguel has not yet arrived. While we are waiting for him we gear ourselves up, put on our harnesses, crampons and helmets.
Shortly after finishing our preparation Miguel appears. We tell him that to save time we are going to make the journey unroped. Miguel tells us that he is exhausted and that the night before he showed symptoms of having a cold. Everyone agrees he should return and he turns to head down, much to everyone's relief. From here to the car is an easy journey and there is no danger.
We start to descend El Veredón, a long diagonal downward ramp that leads into the Corral de Veleta, an old glacier valley (El Veleta is one of the mythical 3000m peaks of the Sierra Nevada and it's north face is a huge vertical wall). Although not presenting a great technical challenge, "El Veredón" has a very high degree of exposure and an error can cost you your life.
We begin to move. The snow in this area is frozen. Below us we have an abyss of 200 meters so we move carefully, but at a good pace. Soon we reach the top of the valley and we can relax a little as now the dangers have receded. Due to its orientation this area is one of the coldest in Sierra Nevada and doesn't receive much direct sunlight. Here the snow is soft and has not had time to transform into ice. Charmed by this impressive setting, enjoying the scenery and the atmosphere, we continue on our way because we have to leave this valley, cross the ridge and get to the start of our route.
We ascend up the steep north west slope to the ridge that separates the two valleys and before reaching the top of it, we pass two interesting low difficulty alpine mountaineering sections. We travel unroped but move fast knowing that a fall could have fatal consequences.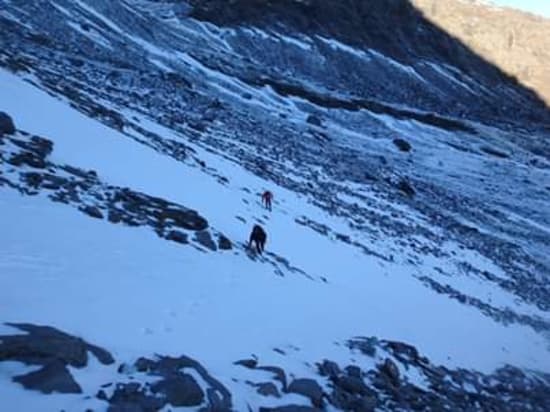 Approaching the ridge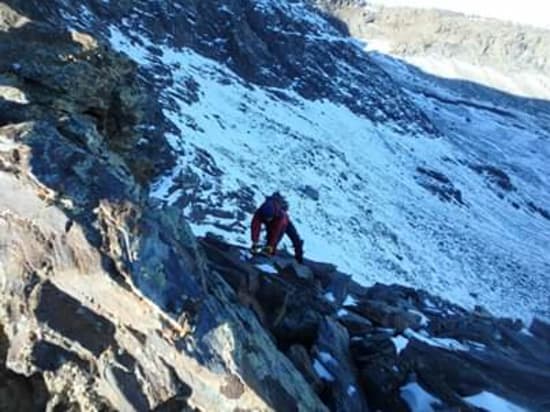 Close to ridge crest
We reach the ridge and take in the breathtaking views before us. Mulhacen and Alcazaba (respectively the highest and third highest peaks in the Sierra Nevada) show us their most alpine aspects from here and we recall past climbs and fantasize about future ones. These mountains represent a continuous stimulus for our desire to climb. We turn attention to our objective and from here we can see a good part of the forthcoming route. We analyze options and look for features to identify the start. Our level of excitement is high, we are looking forward to getting down to business.
We descend via a series of ramps and turns and are quickly on the other side of the ridge. We have down climbed, instead of the normal 50m rappel, as we know this area well.
Shortly after our last descent and after crossing the head of the valley, we reach the beginning of the route proper.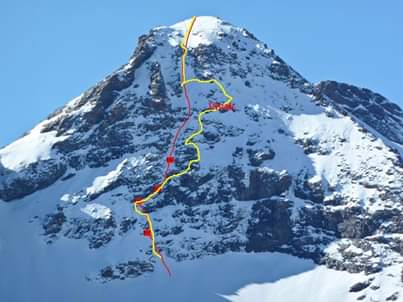 Route taken up the east face Los Mchos
We climb the first two or three pitches unroped, mixed climbing of low difficulty but quite exposed. After finishing this first section we reach a point where we consider it better to start using the rope. In order to speed up our progress we decide that I would be the one leading the way. Paco and Antonio will climb, protected by a top rope.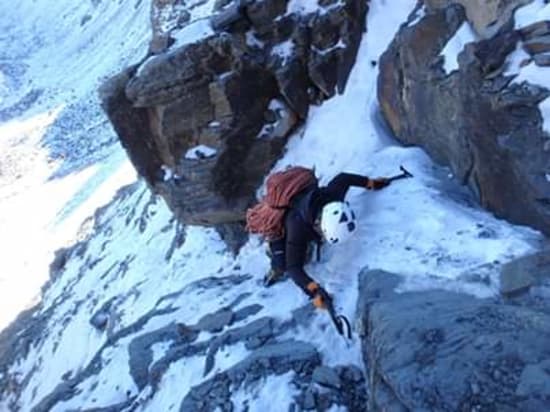 Mountaineering route 1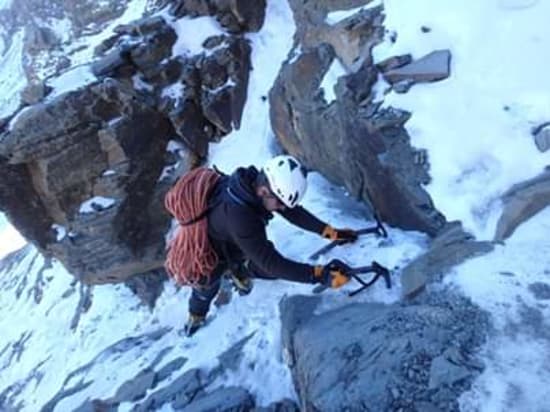 Mountaineering route 2
We set up by belay by a large rock and I began to climb, belayed by my companions. The route climbs delicately rightwards and great care is taken as the gully is narrow. In this section there is less snow and there are many loose boulders. I move slightly to the right and, standing atop a vertical gully, the feeling of height is considerable. This part of the route is particularly airy and impressive.
I suddenly have to use my hands here so my ice axes are loose rather than attached to my harness as normal. I leave one of the ice axes on top of a boulder that I have to overcome and as I lift my body, I watch in anguish as my ice axe falls into the void. I must have brushed it with my body.
It lands several hundred meters below me. I warn my colleagues of what has happened but it is not worth wasting time looking for it. My intention is to retrieve it on another day. I continue climbing the pitch taking care not to disturb rocks by mistake that could pose a danger to my colleagues. Fortunately on this part I don't need 2 axes!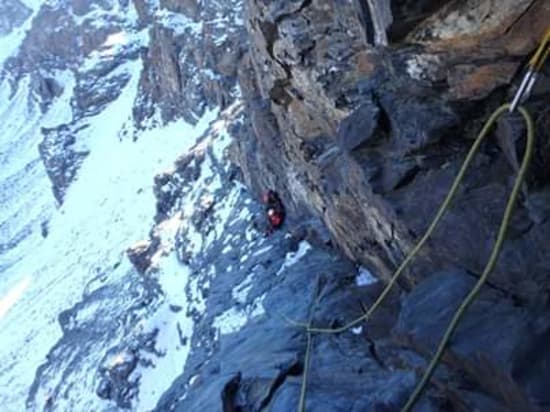 Mountaineering route 3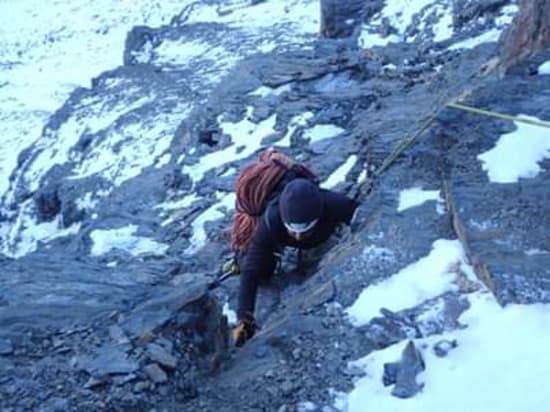 Mountaineering route 4
I reached a large platform, the views are spectacular. Peering down I can see my colleagues waiting their turn to climb. I set up a belay and they begin to climb. Once we are all reunited we chat about the falling ice axe and take in the atmosphere. Antonio is going to leave me one of his axes. There is little snow cover and it is of poor quality, no hard ice has formed yet. And, the rock is also loose so I progress slowly, concentrating on not falling.
I improvise the route finding, trying to make it interesting and taking advantage of the best sections of rock and snow. Of course this makes it more interesting, but does take more time. A vertical rock step here, a snow ramp there, some mixed climbing ... this route is beautiful! The snow becomes very soft, two steps forward, one step back. Extreme care is needed when planting crampons and axes as the ground doesn't always support my weight. In better conditions we would move quickly through this section and on many occasions I could climb for a long time without placing any protection.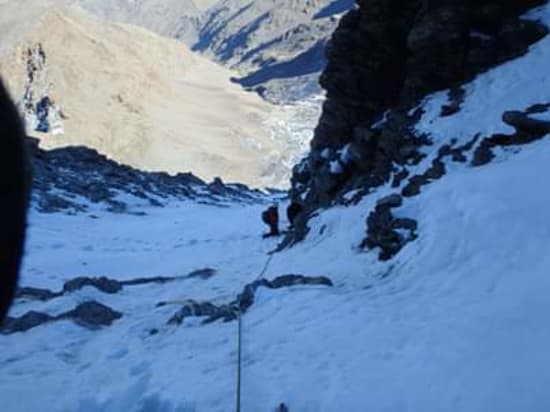 Mountaineering route 5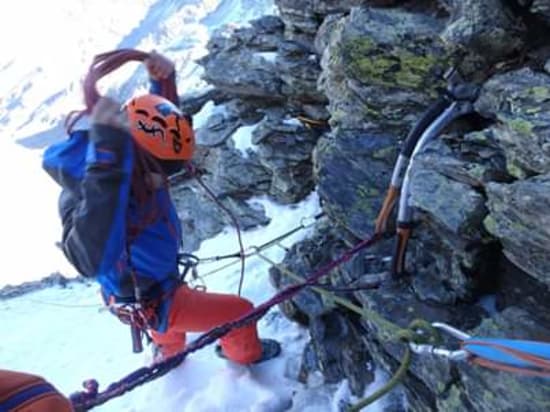 Mountaineering route 6
After several pitches I look at my watch and realize how late it is. We have spent much more time than expected to reach this height. Soon it will start to get dark.
I look out from my ledge and am not able to see my colleagues. I ask them on the radio if they have any problems but they don't answer me, I start to worry, I call them again. Nothing. There is no communication. After a few more minutes we finally manage to talk on the radio. They have slowed down in one of the sections. More time passes before they arrive and when they do they look tired and their movements clumsy.
At last we are all together again. They tell me that it was difficult for them to progress on the loose snow and are amazed how I was able to climb without the help of a rope. Apparently they have never faced such poor quality snow climbing before. For me it is not the first time.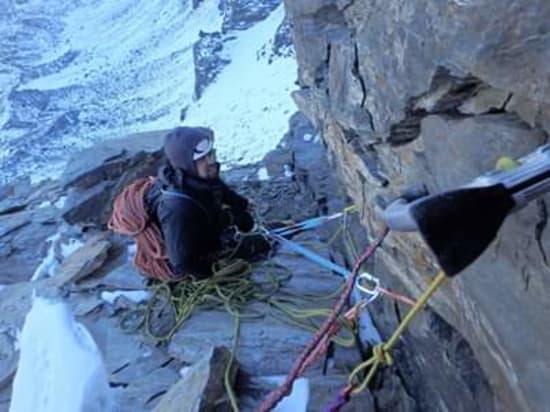 Mountaineering route 7
Mountaineering route 8
We know the night will be upon us before we finish climbing. I start to climb again looking for the easiest route possible to ​​avoiding wasting too much time, I want us to get as high as possible before the darkness arrives.
I finish the next pitch, luckily finding a good crack to place protection. This is undoubtedly the most uncomfortable time of the whole route. The sun has already set although there is still some residual light.
I start to get cold and feel the harness cut off my circulation, I'm half hanging from the belay and I can't find a position that is comfortable. Antonio and Paco are taking too long, although they tell me on the radio that everything is going well. It is now full dark when I see two sets of dim headlights approaching.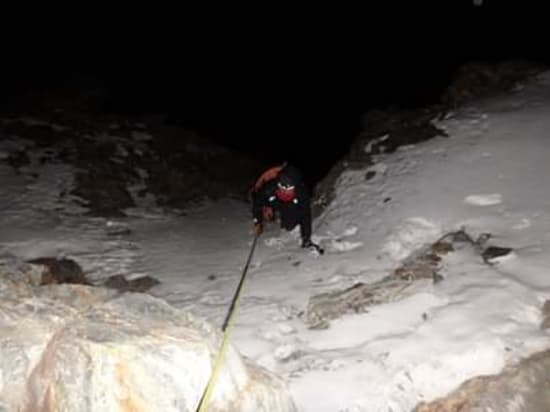 Climbing in the dark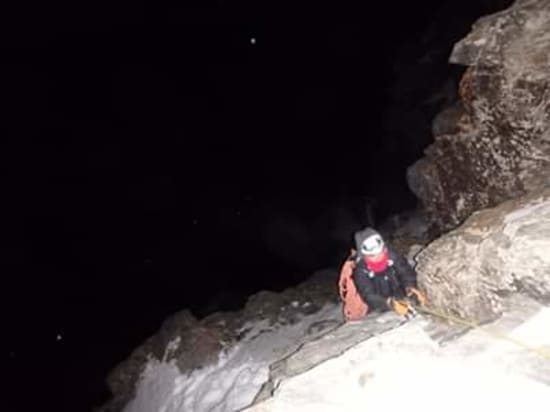 Climbing in the dark 2
At last the three of us are together. The two brothers have positioned themselves a few meters below me. They are exhausted and feel they have reached their limit. I notice Paco is very nervous and his speech is somewhat incoherent. Fear and physical and mental exhaustion have invaded them. I try to calm them down and, although they say they need a good rest and food, I manage to convince them to continue climbing to the ledge that seems to be a few meters above us.
When we get onto the ledge above us, I discover with joy that at one end of it there is an overhanging rock that protrudes from above creating an excellent natural refuge.
Antonio arrives. It took him a while to get up because of fatigue and mental block. Paco is worse. Extremely tired and frightened, he cannot reason correctly. He says he can't go up and it is impossible for him to put together a sequence of steps. I try to reassure him as I know he has enough ability to climb the short next pitch. All he has to do is unlock his mind. He tries again and again, but complains that the harness is cutting off circulation. I remind him he is safe and attached to a fixed rope. He needs assistance. I descend carefully until I am just above his head and I ask him to calm down. I assure him that he is perfectly capable of climbing. I grab his backpack as I show him where to put his hands and feet and pull the rope to help him out a bit. After a few minutes he finally manages to get up this section and onto the safety of the ledge.
After this I realize that it is going to be impossible to continue climbing. The current state of my colleagues won't allow further activity that involves more physical, mental and technical effort. Their batteries have run out!
They rest and hydrate a little. I advise them to put on all clothes, keep warm and rehydrate, rather than eat. My own meagre supplies are four sips of water and two energy bars. I have not eaten anything since breakfast so I am somewhat hungry. I resist the urge to eat and preserve the precious liquid for tomorrow.
Paco and Antonio begin to talk about rappelling or call the rescue services. I quickly intervene and remind them that rappelling in these circumstances is extremely dangerous, as well as being pointless, since there is a long approach from the base of the road to the cars. I try to convince them that it is best to spend the night where we are and continue the next day. We may not sleep at all, but we will survive, with the clothes we wear and there should be no risk of hypothermia.
Calling the rescue services also made no sense. We are tired but our lives are not in danger. Rescue would be complicated and what's more, I'm sure that if we call the Guardia Civil, after asking about our state and resources, they will conclude that it is best that we stay waiting and leave the rescue for the next day.
Although not convinced, they accept my recommendations. We will spend the night here. Paco finds a mobile signal and begins to receive messages, I ask him to notify my family, to tell them that we are fine and that we will spend the night in the mountains. Antonio's phone is also starting to receive messages. We all belong to a WhatsApp group that includes Miguel. They informed me that, around five o'clock in the afternoon, someone asked in the group if anyone had news of us.
It made everyone think that five o'clock in the afternoon was extremely late for us not to have finished and returned to the cars. Suddenly I hear Antonio say that the Guardia Civil have been informed and the rescue services have been activated.
Hundreds of messages had accumulated in the WhatsApp group. What a disaster! Quickly I tell them to put a message on the group that we are fine and to notify the rescue services to explain that everything has been a false alarm, we do not need help, we will spend the night in the mountains. Then nobody will worry.
Antonio thinks that a helicopter is on the way and that we will be taken off the wall in a short time. I tell him that this is not the way the Guardia Civil operate. If the helicopter comes it will do so at first light in the morning. I think it is best to notify them so that they cancel the rescue.
The situation seems chaotic to me, Antonio and Paco do not stop receiving text messages and missed calls. I ask them to call their families and reassure them, explaining that we are not in danger. So they do. I call one of my sisters with Paco's phone and tell her that we are fine and that there is no reason to worry. We are going to spend the night in a relatively comfortable place. I ask my sister to contact the person who notified the Guardia Civil to call them again and inform them of the real situation, that they do not need to come after us. We spend a while exchanging calls, for me it was the most stressful moment of the whole day.
It must have been half past eight at night when we finally stopped communications. We told everyone that we were well, we asked that the rescue be canceled and we agreed that, if necessary, we would be in charge of notifying the Guard Civil to ask for help.
After all the mess of the calls we started to prepare our bivouac. We have a few medium-sized stones that we use to create a more or less flat surface under us. Next we spread the ropes across the floor trying to create some insulation between the floor and ourselves. We have been imprudent by not bringing aluminized emergency blankets (which normally always go with me when I go out to the mountain).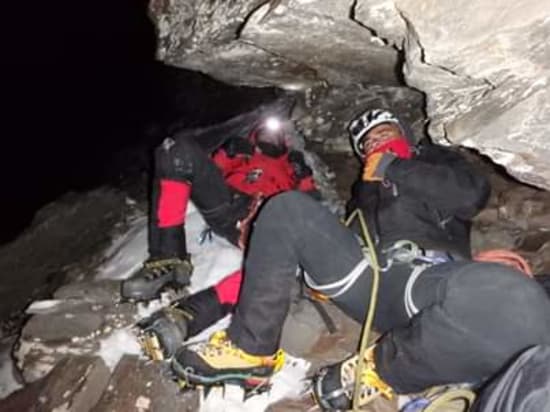 Bivouac on a ledge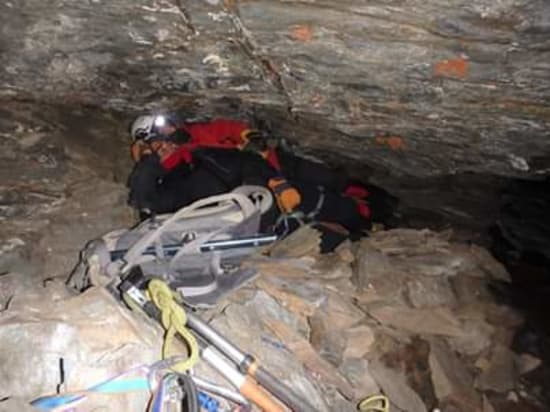 Uncomfortable bivouac
Our little bivouac is just the right size for the three of us. We can even lie down if we want but we end up lying down like canned sardines. Paco in the background, Antonio in the middle and I on the outer edge. Below us there was an abyss of about 200 meters to the base of the wall and the ledge is just wide enough to take our three bodies.
The sun begins to rise and I feel a slight but pleasant warm sensation as the rays of light begin to warm me. I did not feel cold enough to shiver during the night, but it was not comfortable. I realize that my colleagues are also awake. Curiously, saying they didn't sleep at all, there was some snoring at some point in the night. The two brothers are better than yesterday, although they complain of being very thirsty. From their responses, it seems they are well enough that we can get out of this on our own.
We loiter in the first rays of the sun when suddenly we started to hear "knock, knock, knock, knock, knock…" Damn! It seems that the rescue helicopter is coming. We all sit up and peer into the sky in the direction from which the sound is coming to try to locate it. Again, despite the fact that we are all well and able to continue climbing, I have to convince them that they do not need to rescue us. Paco seems to assimilate it but I have the feeling that Antonio reluctantly has given up and deep down he hopes that they will fly him out. I tell them to do whatever they want, I will try to get out on my own, even if it's solo!
The helicopter has trouble passing the area several times before locating us. When he finally succeeds, he approaches until he is about 20 meters away from where we are. The image is overwhelming. We can see all the members of the rescue team inside through the windows. We reject the help and we indicate, by gestures, that we are going to continue on our own. They quickly say goodbye to us. After a spectacular lateral dive maneuver, we watch the helicopter quickly disappear.
After joking with my colleagues, admitting that I would have liked to fly in a helicopter, we prepare to climb. Once ready, I take two sips of water and start to ascend. Like yesterday, today I am looking to avoid difficulties. I want us to get out of this as soon as possible.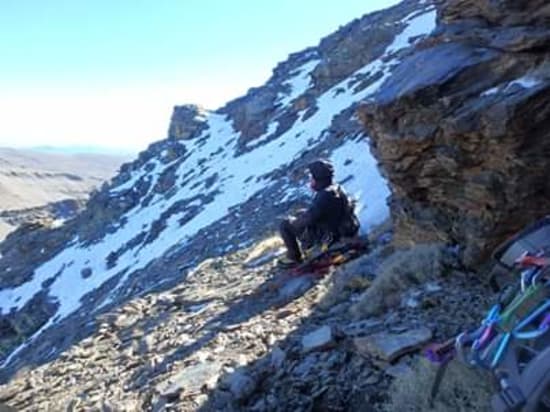 A comtemplative moment
Easier ground to the summit
The snow has better consistency than yesterday and we do the first two pitches relatively quickly. The third takes more time and some delicate, scary and unprotectable climbing takes some time before I can set up a suitable belay. I get to a relatively safe place, breathe a sigh of relief and start to set up the belay. I have found an excellent crack where to place a camalot although someone has left one of the old ones, with a rigid stem, that I take advantage of. It helps me save a piece of protection that I may need for the next pitch.
I advise my colleagues on the radio to start climbing and at that precise moment I hear voices coming from the summit. I recognize that they are from Miguel. I answer him and tell him that we are fine, that we have little to go. We are all three together and have only a couple of pitches until the summit. We are in the middle of a gully and in front of us we have a vertical wall of low difficulty through which we have to continue climbing. After the vertical section comes an easier pitch and just when I finish, I see Miguel in a rocky area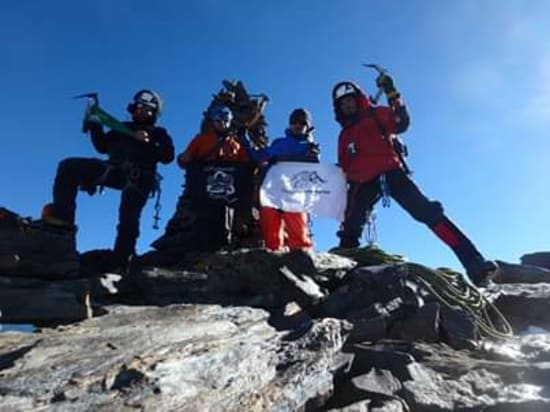 The summit of Los Machos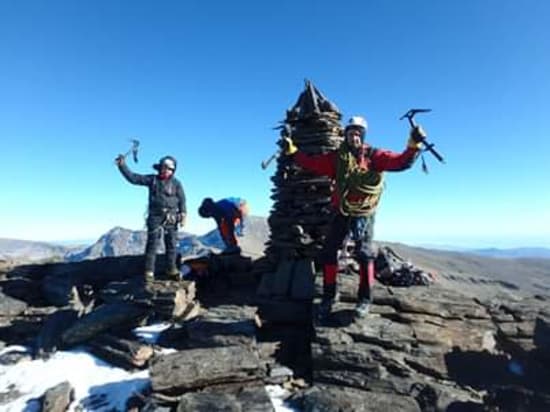 Made it to summit of Los Machos
Once we are all together, after exchanging a few words, we set off towards the summit. From where we are to the summit we go through simple terrain and without stepping on snow, it's relatively safe. We have asked Miguel if he has brought water for us, the answer is no, he has more or less half a liter left in a canteen that he left at the top. Once we reach the top we share the water, we are all thirsty.
We warn everyone of our situation so they don't worry and we start towards the cars. We arrive safely at Hoya de la Mora, the first thing we do is go to the bar of the University Hostel and alleviate our thirst.
We are all happy. And we talk about future climbs together!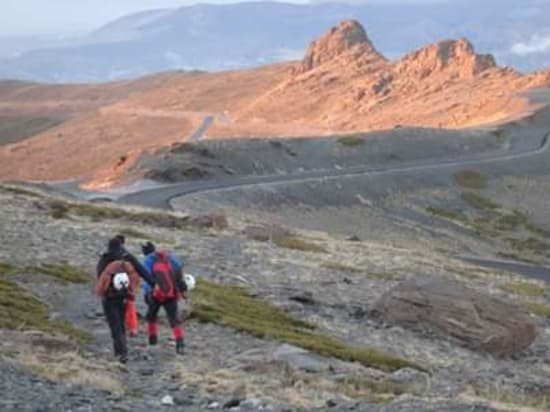 Nearing Hoya de la Mora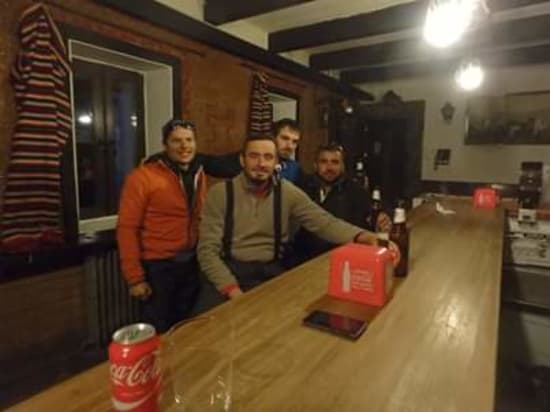 Beer!
Leonardo Ruiz Platt