Things conspired against us from the start. A red wine or two more than we should have the night before, a late start and adverse weather. We parked the car above Capileira and made our way up the Poqueira Gorge on the normal route to the Refugio Poqueira. We had no real agenda other than to have a good time in the mountains.
The storm hit us just below CortijSpanish Highs Thomas. We headed left alongside the acequia and into the valley of the Rio Mulhacen. A short scramble up the river over dodgy snow bridges and a short exposed traverse left   brought us to some small caves. Here we took refuge for the night.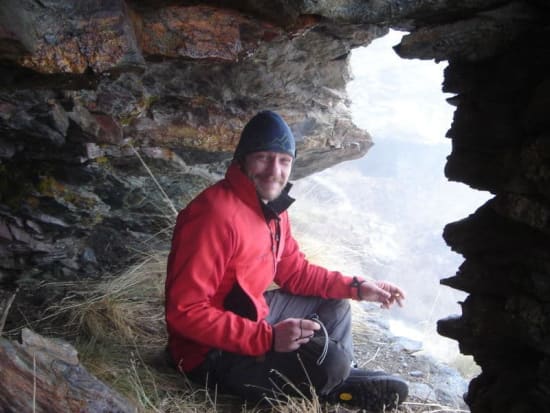 Overnight shelter in the cave
I surprisingly had one of the best nights bivouac sleep I've ever had! It is an shallow open cave but there was little wind, just the sound of the snow falling. The cave was dry and comfortable.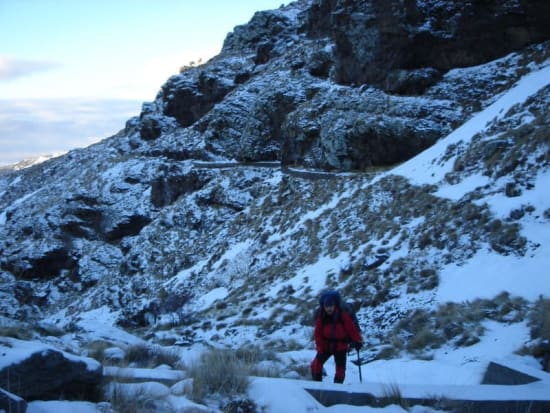 Leaving the following morning. Caves behind
At first light I found some Cabra Montes (mountain goats) outside our bivvy area wondering what on earth had brought these humans here. I thought the same thing!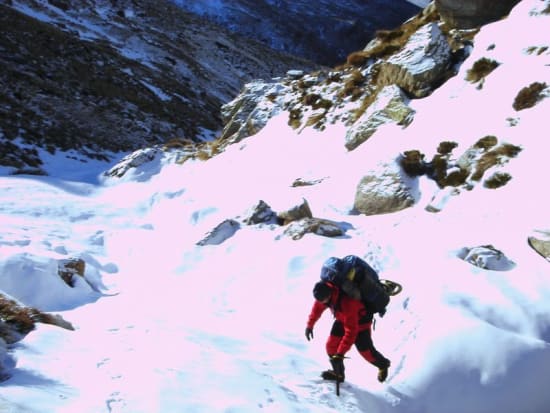 Crossing the Rio veleta
Next morning we packed up at first light, traverses icy steep terrain back into the Rio, and started ascending the Rio Mulhacen on perfect neve snow/ice. It reminded me of certain glacier ascents I have done in the Alps in the past. Instead of crevasses though we had the constant danger of falling through the snow and into the river.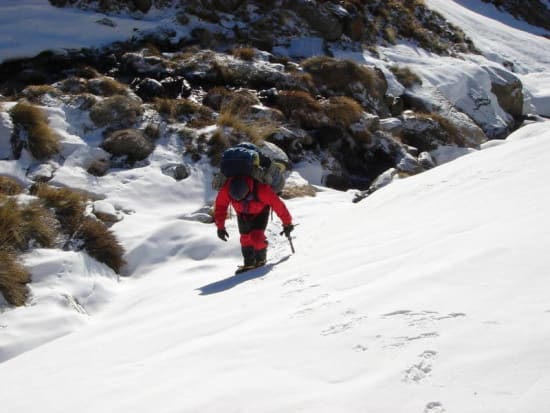 Ascending snow fields
At the juncion with the Rio Seco we headed left up the latter. By taking the most difficult lines we had some fun. We practiced our mountaineering skills in the upper bowl. By now the sun had turned the snow very soft. This necessitated snowshoes. We snowshoed up into the upper bowl.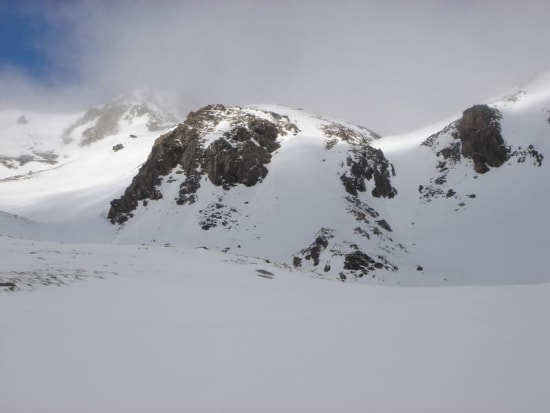 The upper valley
From here a great ascent can be made of "El Pulpito". This rises dramatically to the left (W) of the Raspones ridge. By heading up steep snow on Terrazes Azules, crossing a col, and following snowy coridoors upwards, you can reach the 2978m summit.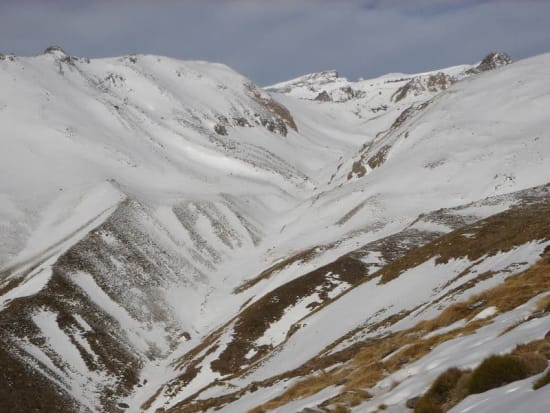 Rio Veleta Valley
El Pulpito is hardly known and you will see few people here. It is surrounded to it's north and east by the higher peaks of Veleta, Cerro de los Machos and Raspones.
Yet, El Pulpito has a certain quality about it. It feels more remote than it is. And some sporting ways can be found up either rock or snow on it's SE or SW faces, short routes but good routes to the top.
A return to the Poqueira Hut can be made traversing the south west slopes of Loma Pela. We spent a cold night in the Poqueira Hut as temperatures outside plummeted to -13. The staff from the hut had built an ice igloo outside for guests but we preferred the warmth and cameradie of the roaring fire.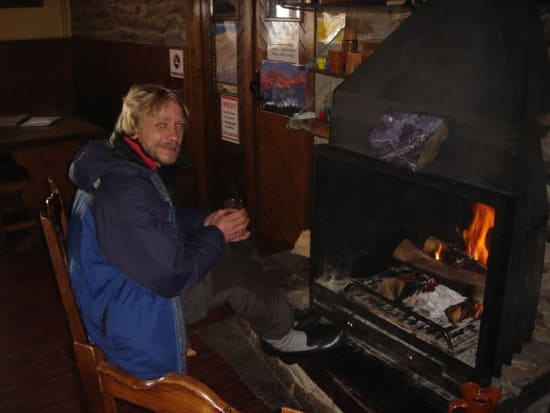 In the Refugio Poqueira